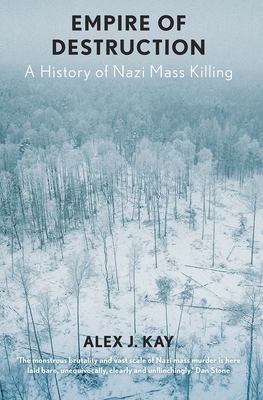 Empire of Destruction
A History of Nazi Mass Killing
Hardcover

* Individual store prices may vary.
Description
The first comparative, comprehensive history of Nazi mass killing – showing how genocidal policies were crucial to the regime's strategy to win the war

Nazi Germany killed approximately 13 million civilians and other non-combatants in deliberate policies of mass murder, mostly during the war years. Almost half the victims were Jewish, systematically destroyed in the Holocaust, the core of the Nazis' pan-European racial purification programme.

Alex Kay argues that the genocide of European Jewry can be examined in the wider context of Nazi mass killing. For the first time, Empire of Destruction considers Europe's Jews alongside all the other major victim groups: captive Red Army soldiers, the Soviet urban population, unarmed civilian victims of preventive terror and reprisals, the mentally and physically disabled, the European Roma and the Polish intelligentsia. Kay shows how each of these groups was regarded by the Nazi regime as a potential threat to Germany's ability to successfully wage a war for hegemony in Europe.

Combining the full quantitative scale of the killings with the individual horror, this is a vital and groundbreaking work.
Praise For Empire of Destruction: A History of Nazi Mass Killing…
"Building on his earlier insightful work about Nazi policies of destruction, Alex Kay now offers a powerful and empirically convincing account of German war crimes that, for the first time, brings together the history of the Holocaust and genocidal policies against other population groups in a single analytical frame. Lucid and innovative, Empire of Destruction is a major milestone."—Robert Gerwarth, author of Hitler's Hangman
— Robert Gerwarth

"This thought-provoking integrative history of Nazi mass killing sets up a new standard for books on Germany's darkest period."—Sönke Neitzel, coauthor of Soldaten - On Fighting, Killing and Dying
— Sönke Neitzel

"Alex Kay performs a great service by juxtaposing the fates of the different population groups who fell victim to Nazi persecution in a way that clarifies the Nazis' uncompromising drive to domination. The monstrous brutality and vast scale of Nazi mass murder is laid bare here unequivocally, clearly, and unflinchingly.''—Dan Stone, author of The Liberation of the Camps
— Dan Stone

"A lucid, informative and chronologically well-organized account of Nazi violence, admirable in its effort to integrate the full range of victims of mass killings."—Mark Roseman, author of Lives Reclaimed: A Story of Rescue and Resistance in Nazi Germany
— Mark Roseman
Yale University Press, 9780300234053, 400pp.
Publication Date: October 26, 2021
About the Author
Alex J. Kay is Senior Lecturer in History at the University of Potsdam and lifetime Fellow of the Royal Historical Society. He has published five acclaimed books on Nazi Germany,
including The Making of an SS Killer.