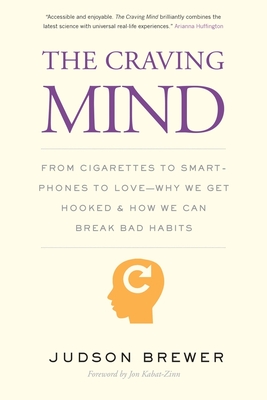 The Craving Mind (Paperback)
From Cigarettes to Smartphones to Love – Why We Get Hooked and How We Can Break Bad Habits
Yale University Press, 9780300234367, 256pp.
Publication Date: February 6, 2018
Other Editions of This Title:
Compact Disc (3/7/2017)
Hardcover (3/7/2017)
MP3 CD (3/7/2017)
Compact Disc (3/7/2017)
* Individual store prices may vary.
About the Author
Judson Brewer, M.D., Ph.D., is director of research at the Center for Mindfulness and associate professor in medicine and psychiatry at the University of Massachusetts Medical School. He is also an adjunct faculty member at Yale University and a research affiliate at Massachusetts Institute of Technology.
Praise For The Craving Mind: From Cigarettes to Smartphones to Love – Why We Get Hooked and How We Can Break Bad Habits…
"It has a lot of practical advice, combining mindfulness training with patient testimonies and clinical practice. . . [A] great book everyone should read."—Irvine Welsh, Metro
"[The Craving Mind] is informative, has practical clinical utility, and offers a very realistic view of addictions and an insightful look at a viable treatment option."—Robert Perna, PsycCritiques
"Accessible and enjoyable. The Craving Mind brilliantly combines the latest science with universal real-life experiences—from falling in love to spending too much time with our phones."—Arianna Huffington
"This masterful, personal, friendly, compelling, humorous, and erudite book offers us a radically new perspective on learning, on breaking habits of mind not by force or through the application of will power or the desire for a reward, but by truly inhabiting the domain of being."—Jon Kabat-Zinn, from the Foreword
"Entertaining and profound, Judson Brewer's book brings our everyday addictions into clear view, helping us see how we get caught up in our habits, and giving us simple, grounded steps that we can take to overcome them. Wisdom infuses his research as he offers us a path of exploration to better our lives."—Jewel, Grammy-nominated singer, songwriter, and author
"The core perception that 'something is missing' drives us to addiction and deprives us of the chance to live fully. By bringing together cutting-edge Western science, the radical insights of Buddhist psychology, and mindfulness practices, Judson Brewer offers a direct pathway to freeing our minds from the domination of craving."—Tara Brach, author of Radical Acceptance and True Refuge
"The Craving Mind is a remarkable book, one that will help free us from the powerful habits of craving and addiction. Brewer lays out a practical and empirically based pathway to greater freedom and ease in our lives. For many readers, this book will be life-transforming."—Joseph Goldstein, author of Mindfulness: A Practical Guide to Awakening