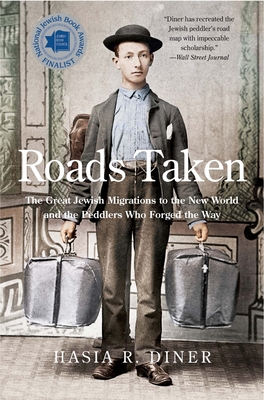 Roads Taken (Paperback)
The Great Jewish Migrations to the New World and the Peddlers Who Forged the Way
Yale University Press, 9780300234398, 280pp.
Publication Date: February 6, 2018
Other Editions of This Title:
Hardcover (1/13/2015)
* Individual store prices may vary.
Description
Finalist for the 2015 National Jewish Book Award--Celebrate 350 Award for American Jewish Studies

Between the late 1700s and the 1920s, nearly one-third of the world's Jews emigrated to new lands. Crossing borders and often oceans, they followed paths paved by intrepid peddlers who preceded them. This book is the first to tell the remarkable story of the Jewish men who put packs on their backs and traveled forth, house to house, farm to farm, mining camp to mining camp, to sell their goods to peoples across the world. Persistent and resourceful, these peddlers propelled a mass migration of Jewish families out of central and eastern Europe, north Africa, and the Ottoman Empire to destinations as far-flung as the United States, Great Britain, South Africa, and Latin America.
 
Hasia Diner tells the story of millions of discontented young Jewish men who sought opportunity abroad, leaving parents, wives, and sweethearts behind. Wherever they went, they learned unfamiliar languages and customs, endured loneliness, battled the elements, and proffered goods from the metropolis to people of the hinterlands. In the Irish Midlands, the Adirondacks of New York, the mining camps of New South Wales, and so many other places, these traveling men brought change—to themselves and the families who later followed, to the women whose homes and communities they entered, and ultimately to the geography of Jewish history.
About the Author
Hasia R. Diner is Paul and Sylvia Steinberg Professor of American Jewish History and director, Goldstein-Goren Center for American Jewish History, New York University. Among her numerous books is We Remember with Reverence and Love: American Jews and the Myth of Silence after the Holocaust, a National Jewish Book Award winner. She lives in New York City.
Praise For Roads Taken: The Great Jewish Migrations to the New World and the Peddlers Who Forged the Way…
"Hasia Diner's newest book. . . offers readers a wealth of new information and ways to think about how Jews moved throughout the New World.. . . . Anyone interested in Jewish studies, American religious history, immigration, and early American business practices will enjoy Roads Taken."—Anne M. Blankenship, Reading Religion
Finalist for the 2015 National Jewish Book Award in the category of American Jewish Studies.
"This landmark study will permanently change our conceptions of the modern Jewish experience and Jewish social and economic history."—Jonathan Karp, author of The Politics of Jewish Commerce: Economic Thought and Emancipation in Europe, 1638-1848
"In this marvelous account of a figure that was, until now, better  known in fiction and folk tales, Hasia Diner imaginatively takes us down some of the dusty roads through which Jewish peddlers hawked their wares.  She shows how work, culture, and religious belief are deeply entwined."—Walter A. Friedman, author of Birth of a Salesman: The Transformation of Selling in America
"This intensely-researched book about the underside of Jewish migration provides a rich account of how cross-cultural interactions arose as peddlers met their customers in frontier societies. Roads Taken is a commendable comparative history from below."—Robin Cohen, University of Oxford
 

"In Roads Taken, Hasia Diner is at her best, tackling a complex historical landscape and distilling it into a vivid, compelling story that will fascinate scholars and history buffs alike."—Sarah Abrevaya Stein, author of Plumes: Ostrich Feathers, Jews, and a Lost World of Global Commerce

"This impressive book establishes a new framework for studying modern Jewish migration and provides the first, all-encompassing narrative of Jewish peddlers. Roads Taken is a landmark study in Jewish History."—Tony Michels, author of A Fire in Their Hearts: Yiddish Socialists in New York
or
Not Currently Available for Direct Purchase