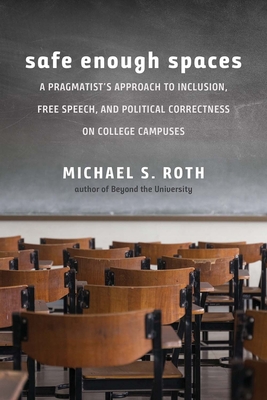 Safe Enough Spaces
A Pragmatist's Approach to Inclusion, Free Speech, and Political Correctness on College Campuses
Hardcover

* Individual store prices may vary.
Other Editions of This Title:
Paperback (11/16/2021)
Description
From the president of Wesleyan University, a compassionate and provocative manifesto on the crises confronting higher education

In this bracing book, Michael S. Roth stakes out a pragmatist path through the thicket of issues facing colleges today to carry out the mission of higher education. With great empathy, candor, subtlety, and insight, Roth offers a sane approach to the noisy debates surrounding affirmative action, political correctness, and free speech, urging us to envision college as a space in which students are empowered to engage with criticism and with a variety of ideas.
 
Countering the increasing cynical dismissal—from both liberals and conservatives—of the traditional core values of higher education, this book champions the merits of different diversities, including intellectual diversity, with a timely call for universities to embrace boldness, rigor, and practical idealism.
Praise For Safe Enough Spaces: A Pragmatist's Approach to Inclusion, Free Speech, and Political Correctness on College Campuses…
"A timely book on a fascinating topic. . . . Roth's historical approach is useful and instructive."—Sarah Carr, Washington Post

"Something about this book really struck me . . . college campuses must be places where students come across ideas that sometimes infuriate you . . . but at the same time, students must feel safe enough in classrooms to actually learn, to open their minds and their hearts. . . . I love the book very much and I was very moved by it."—Liel Liebovitz, Tablet Magazine Unorthodox Podcast

"A reliable history and reflective assessment of controversies about affirmative action and full inclusion in campus culture, of the development and use of the hypocrisy-charging term 'political correctness,' and of more recent controversies about free speech on campus."—Richard Eldridge, Los Angeles Review of Books

"In Safe Enough Spaces, Wesleyan President Michael Roth offers historical, sociological, and economic contexts for the free speech debates on campus. Pragmatism may be foolhardy in our hyperbolic time, but it is exactly what we need right now. Bravo!"—Cathy N. Davidson, author of The New Education

"Michael Roth provides a critical wake-up call, showing us how the reputation of the American higher-education system is at risk if we buy into the shortsightedness of today's political environment and fail to see the strength of what has lasted us centuries. This thoughtful and valuable book is a must-read for anyone that cares about the future of higher education, indeed the future of our democracy."—Jeffrey J. Selingo, New York Times bestselling author of There Is Life After College and College (Un)Bound

"Keywords like free speech, diversity, and safe spaces have become weaponized, littering higher education with political land mines. Thankfully, Michael Roth has cleared a path for us, offering a deeply reasoned argument about how we can return to the good-faith exploration of challenging ideas that are essential to the preservation of our democracy."—Jonathan Holloway, Northwestern University

"Safe Enough Spaces does not ask us to simply choose sides. Instead, it compels us to think more deeply about safe spaces, political correctness, and the contexts in which contentious intellectual exchange unfolds in American higher education. This is a must-read for anyone trying to make sense of confusing times in academia."—Alford Young, Jr., University of Michigan


Yale University Press, 9780300234855, 160pp.
Publication Date: August 20, 2019
About the Author
Michael S. Roth is president of Wesleyan University and a historian, curator, and teacher. His previous books include Beyond the University: Why Liberal Education Matters.
or
Not Currently Available for Direct Purchase