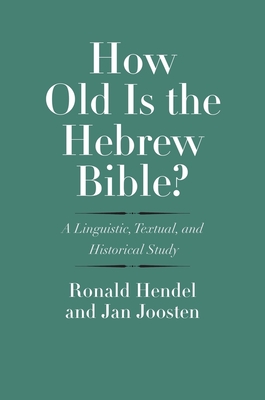 How Old Is the Hebrew Bible?
A Linguistic, Textual, and Historical Study (The Anchor Yale Bible Reference Library)
Hardcover

* Individual store prices may vary.
Description
From two expert scholars comes a comprehensive study of the dating of the Hebrew Bible

The age of the Hebrew Bible is a topic that has sparked controversy and debate in recent years. The scarcity of clear evidence allows for the possibility of many views, though these are often clouded by theological and political biases. This impressive, broad‑ranging book synthesizes recent linguistic, textual, and historical research to clarify the history of biblical literature, from its oldest texts and literary layers to its youngest. In clear, concise language, the authors provide a comprehensive overview that cuts across scholarly specialties to create a new standard for the historical study of the Bible. This much‑needed work paves the path forward to dating the Hebrew Bible and understanding crucial aspects of its historical and contemporary significance.
Praise For How Old Is the Hebrew Bible?: A Linguistic, Textual, and Historical Study (The Anchor Yale Bible Reference Library)…
"A work of scholarship that offers an elegant solution to an enduring mystery . . . a serious monograph that confronts some of the hottest controversies in biblical scholarship . . . [and] a kind of whodunit in which words serve as clues and a lens through which we can learn new and wonderful things about the ancient writings the world regards as sacred scripture."—Jonathan Kirsch, Jewish Journal

"Hendel and Joosten [are] a perfect match well hammered on the anvil of biblical scholarship."—Hadith Sivan, Book Post

"In this impressive volume Hendel and Joosten synthesize the latest linguistic, textual, and historical research to clarify the history of [Old Testament] writings."—John R. Barker, The Bible Today

"This book and its grammatical examples are concise, meticulous, and sensible. . . . This book should be on the reading list of any Hebrew reading or textual criticism class."—Josiah D. Peeler, Restoration Quarterly

 H. and J.'s volume is a very welcome addition to biblical studies. They successfully argue, by examples and in readable prose, for the necessity of diachronic linguistic considerations in the dating of biblical texts.—Samuel Boyd, Catholic Biblical Quarterly

"Even biblical scholars who do not specialize in language will find this book of momentous importance."—Benjamin D. Sommer, Journal of Religion

"Hendel and Joosten have provided the scholarly and student community with a benchmark for the future discussion of dating biblical texts. The strength of this publication is not only in its thoroughness and simplicity, but also in its combination of an introduction, synthesis, and critique. . . . This important, readable, and well-priced book will be a foundation stone for all linguistic study of the Hebrew Bible."— Robin B. ten Hoopen, NTT Journal for Theology and the Study of Religion

"This book is an excellent introduction to the topic of dating OT texts."—Oliver Glanz, Bulletin for Biblical Research

"A judiciously designed volume that benefits from close study. . . . An effective introduction for advanced Hebrew students, whether undergraduate or graduate, as well as being comprehensible by educated adults with a moderate level of Hebrew. . . . Hendel and Joosten are to be commended for their lucid volume."— Pamela Barmash, Hebrew Studies

"An impressive work in its scope and erudition, this will be a major contribution to the study of biblical literature and the history of the Hebrew language."—William M. Schniedewind, author of A Social History of Hebrew

"Dating biblical texts, which has become contentious recently, is finally defended cogently and coherently, with a careful and even-handed tone. This book is a major methodological contribution, which should be required reading for any biblical philologist."—Na'ama Pat-El, The University of Texas at Austin

"In this full-scale and comprehensive treatment, two experts of the Hebrew Bible demonstrate conclusively the validity of applying historical linguistics to the relative dating of Biblical Hebrew texts. This book has long been a desideratum."—Steven E. Fassberg, The Hebrew University of Jerusalem

"An engaging, nuanced, and candid inquiry into Biblical Hebrew 'chronolects' and an array of other issues surrounding biblical textual criticism and history. This is an important book."— W. Randall Garr, University of California, Santa Barbara


Yale University Press, 9780300234886, 240pp.
Publication Date: November 20, 2018
About the Author
Ronald Hendel is the Norma and Sam Dabby Professor of Hebrew Bible and Jewish Studies at the University of California, Berkeley, and general editor of The Hebrew Bible: A Critical Edition.Jan Joosten is Regius Professor of Hebrew at the University of Oxford and editor-in-chief of Vetus Testamentum.
or
Not Currently Available for Direct Purchase