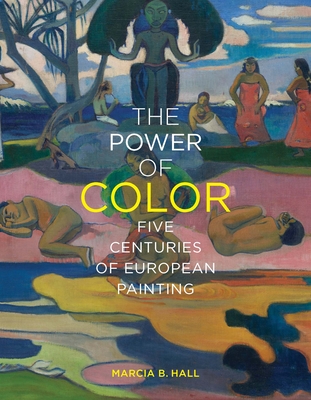 The Power of Color
Five Centuries of European Painting
Hardcover

* Individual store prices may vary.
Description
Revealing the power of color as physical medium, a key to interpretation, and a mediator of social and political change

"This excellently illustrated volume . . . will serve as a comprehensive survey on color in Western painting from the fifteenth century to the age of Modernism."—Andrew Shea, New Criterion

This expansive study of color illuminates the substance, context, and meaning of five centuries of European painting. Between the mid-15th and the mid-19th centuries, the materials of painting remained remarkably unchanged, but innovations in their use flourished. Technical discoveries facilitated new visual effects, political conditions prompted innovations, and economic changes shaped artists' strategies, especially as trade became global.

Marcia Hall explores how Michelangelo radically broke with his contemporaries' harmonizing use of color in favor of a highly saturated approach; how the robust art market and demand for affordable pictures in 17th-century Netherlands helped popularize subtly colored landscape paintings; how politics and color became entangled during the French Revolution; and how modern artists liberated color from representation as their own role transformed from manipulators of pigments to visionaries celebrated for their individual expression. Using insights from recent conservation studies, Hall captivates readers with fascinating details and developments in magnificent examples—from Botticelli and Titian to Van Gogh and Kandinsky—to weave an engaging analysis. Her insistence on the importance of examining technique and material to understand artistic meaning gives readers the tools to look at these paintings with fresh eyes.
Praise For The Power of Color: Five Centuries of European Painting…
"This excellently illustrated volume from Yale will serve as a comprehensive survey on color in Western painting from the fifteenth century to the age of Modernism."—Andrew Shea, New Criterion

"It has taken two years of writing and a scholarly lifetime to conceive, but Marcia Hall's expansive study of how color has been a key through-line over five centuries of European painting is well worth the Herculean effort."—Antiques and the Arts Weekly

CHOICE Outstanding Academic Titles, 2020

"Marcia Hall covers a familiar historical path but in a way that encourages readers to look at works of art through a different and more subtle lens. She explains and illustrates her argument with wonderful clarity."—Jo Kirby, formerly Senior Scientific Officer, National Gallery, London

"Marcia Hall has written a wide-ranging, ambitious book that is the fruit of long reflection on the significance of color in early modern and modern Western painting."—Stuart Lingo, University of Washington

"This book would make an excellent addition to art history curricula, especially those built to expand students' interest and knowledge into materials and process—both key concepts for pursuing study in conservation and curatorial work. Hall's clear writing and ability to illustrate connections across time and space make this an excellent resource for a general audience. The extensive notes and bibliography will provide specialists with avenues for additional and deeper research."—L. L. Kriner, Berea College


Yale University Press, 9780300237191, 304pp.
Publication Date: May 21, 2019
About the Author
Marcia B. Hall is professor of art history at the Tyler School of Art at Temple University.
or
Not Currently Available for Direct Purchase