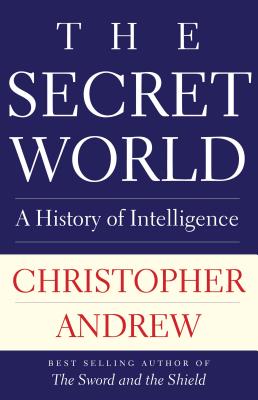 The Secret World
A History of Intelligence
Hardcover

* Individual store prices may vary.
Other Editions of This Title:
Digital Audiobook (9/3/2018)
Paperback (9/10/2019)
Compact Disc (9/4/2018)
MP3 CD (9/4/2018)
Compact Disc (9/4/2018)
Pre-Recorded Audio Player (9/4/2018)
Description
The first-ever detailed, comprehensive history of intelligence, from Moses and Sun Tzu to the present day

The history of espionage is far older than any of today's intelligence agencies, yet the long history of intelligence operations has been largely forgotten. The codebreakers at Bletchley Park, the most successful World War II intelligence agency, were completely unaware that their predecessors in earlier moments of national crisis had broken the codes of Napoleon during the Napoleonic wars and those of Spain before the Spanish Armada.
 
Those who do not understand past mistakes are likely to repeat them. Intelligence is a prime example. At the outbreak of World War I, the grasp of intelligence shown by U.S. President Woodrow Wilson and British Prime Minister Herbert Asquith was not in the same class as that of George Washington during the Revolutionary War and leading eighteenth-century British statesmen.
 
In this book, the first global history of espionage ever written, distinguished historian Christopher Andrew recovers much of the lost intelligence history of the past three millennia—and shows us its relevance.
Praise For The Secret World: A History of Intelligence…
"A comprehensive exploration of spying in its myriad forms from the Bible to the present day. . . . Easy to dip into, and surprisingly funny. Spies have an acute sense of the ridiculous, and their own absurd and lethal drama."—Ben Macintyre, "By the Book," New York Times Book Review
"For anyone with a taste for wide-ranging and shrewdly gossipy history—or, for that matter, for anyone with a taste for spy stories—Andrew's is one of the most entertaining books of the past few years."—Adam Gopnik, New Yorker
"Perhaps the most comprehensive narrative of intelligence compiled: the author's breadth and depth of knowledge are unrivalled."—Max Hastings, The Sunday Times (London)
"To write a world history of intelligence, from the dawn of recorded history to the present day, is a daunting task. To make such a work accurate, comprehensive, digestible and startling, and all in a single volume, is a stellar achievement. But that is what Christopher Andrew has done in The Secret World."—Edward Lucas, The Times (London)
"The Secret World is a work of magisterial breadth."—Amy Zegart, American Interest
"This scholarly but readable history unlocks a portfolio of secrets—supersecrets, even. . . . Failures of intelligence . . . figure as much as successes in Andrew's spry account. Fans of Fleming and Furst will delight in this skillfully related true-fact side of the story."—Kirkus Reviews
"Both brilliant in its sweep and near-miraculous in the detail and confident judgments provided on two and a half millennia of spying. . . . A crowning triumph of one of the most adventurous scholars of the security world."—Financial Times
"The Secret World is a magisterial book. It is designed for the lay reader as much as for the expert; the scale, breadth, and depth of the work confirm Christopher Andrew's position as the great Yoda of intelligence studies in the UK."—Michael S. Goodman, Literary Review
"The first global history of intelligence, remarkable for its scope and delightful for its unpredictable comparisons. . . . Given that intelligence is partly about prediction, Andrew argues that the history of intelligence is one of the most powerful tools that modern spies can deploy. Accordingly, there are important lessons for spymasters everywhere in this breath-taking and brilliant book. . . . A stunning secret archaeology of a subject that [Andrew] himself helped to create."—Richard J. Aldrich, Times Literary Supplement
"A study of unprecedented scope and depth, [covering] spying around the world, and from biblical times to today."—T. A. Frail, "Smithsonian VIP" Newsletter
"Impressive. . . . Andrew, eminent historian of intelligence services, gifts us with his lifetime of knowledge. . . . This book fills a great need and should interest any serious student of international affairs."—Michael J. Art, The University Bookman
"A definitive account. . . . No other contemporary writer matches Andrew's record of bringing the shadowy world of intelligence into the light."—J. R. Dunn, The Federalist
"It just may convince you that the West's vaunted intelligence agencies would have been more successful if they'd studied the past, and that our need for capable spy agencies is greater today than ever."—The Week
"Andrew, eminent historian of intelligence services, gifts us with his lifetime of knowledge in the field. This book fills a great need and should interest any serious student of international affairs."—Michael J. Ard, Supporting Statecraft
"Some contend that intelligence is the second oldest profession, and Andrew (Cambridge) agrees. To emphasize the point, he has provided in his new work a pivotal study concerning the history of intelligence that will stand the test of time."—C. C. Lovett, Choice
"The Secret World provides an indispensable basis for recognizing intelligence as something far more than even aficionados of spy literature could imagine."—Charles Hill, Claremont Review of Books
"Masterful and illuminating. . . .  A masterpiece of concision, more than three thousand years of espionage and intelligence gathering covered within a single volume. . . . I am confident that it will achieve well-deserved status as a classic."—Aram Bakshian, Jr., The National Interest
"A truly magisterial tome, . . . a crowning achievement for Christopher Andrew, former official historian MI5 and leading Cambridge academic, whose life has been primarily devoted to the study of intelligence and espionage in the 20th century."—Neil Kent, The RUSE Journal
"A truly magisterial work . . . [and] a must-read for any person with a serious interest in intelligence. . . . His evidence . . . is rich with anecdotes and opinions of world leaders who relied on — or ignored — intelligence as a tool of office. . . . An outstanding work. Ten cloaks, ten daggers."—Joseph C. Goulden, Washington Times
Winner, 2018 Airey Neave Book Prize
"In this extraordinarily ambitious and monumental work, Christopher Andrew brings an enormous amount of detail together in one place so patterns can begin to emerge and readers can appreciate connections and dissimilarities. No other book has come close to what Andrew has done here."—Harvey Klehr, Andrew W. Mellon Professor of Politics and History Emeritus, Emory University

Yale University Press, 9780300238440, 960pp.
Publication Date: September 4, 2018
About the Author
Christopher Andrew is emeritus professor of modern and contemporary history at the University of Cambridge and founder of its renowned Intelligence Seminar. His many books include The Sword and the Shield; The World Was Going Our Way; and Defend the Realm, an authorized history of MI5.
 
or
Not Currently Available for Direct Purchase