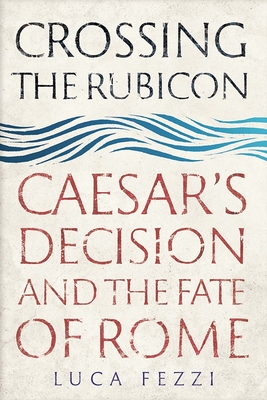 Crossing the Rubicon
Caesar's Decision and the Fate of Rome
Hardcover

* Individual store prices may vary.
Description
A dramatic account of the fateful year leading to the ultimate crisis of the Roman Republic and the rise of Caesar's autocracy

When the Senate ordered Julius Caesar, conqueror of Gaul, to disband his troops, he instead marched his soldiers across the Rubicon River, in violation of Roman law. The Senate turned to its proconsul, Pompey the Great, for help. But Pompey's response was unexpected: he commanded magistrates and senators to abandon Rome—a city that, until then, had always been defended. The consequences were the ultimate crisis of the Roman Republic and the rise of Caesar's autocracy.

In this new history, Luca Fezzi argues that Pompey's actions sealed the Republic's fate. Drawing on a wide range of primary sources, including Cicero's extensive letters, Fezzi shows how Pompey's decision shocked the Roman people, severely weakened the city, and set in motion a chain of events that allowed Caesar to take power. Seamlessly translated by Richard Dixon, this book casts fresh light on the dramatic events of this crucial moment in ancient Roman history.
Praise For Crossing the Rubicon: Caesar's Decision and the Fate of Rome…
"A fascinating re-examination of an event that is treated as settled history."—Mark Lardas, The Galveston County News

"A gripping account of the primal political crisis in Western history, fusing deep scholarship with expertly paced narrative."—Tom Holland, author of Rubicon 

"Charts with pinpoint precision the chess-like movements of Julius Caesar and Pompey the Great as they inched towards one of the most climactic moments in Roman history. Fezzi powerfully captures the tension of the times. Thrilling."—Daisy Dunn, author of In the Shadow of Vesuvius

"Shows with astonishing clarity and drama the how, why, and what came next of one of the most pivotal gambles in world history."—Paul Chrystal, author of Rome: Republic into Empire

"A brilliant intertwining of the ancient sources for the dramatic and violent years of the civil war between Caesar and Pompey that brought the Roman Republic crashing down. Fascinating in its detail, poignant in its quotations, and provocative in its approach."—Thomas R. Martin, author of Ancient Rome

"Fezzi presents the leaders of the Roman civil war in a balanced, rigorous way, and without undue bias or moralism."—Carlo Franco, Alias - Il Manifesto


Yale University Press, 9780300241457, 384pp.
Publication Date: January 7, 2020
About the Author
Luca Fezzi is professor of Roman history at the University of Padua and author of numerous books in Italian, including most recently, The Corrupt: An Inquiry by Marcus Tullius Cicero.
or
Not Currently Available for Direct Purchase