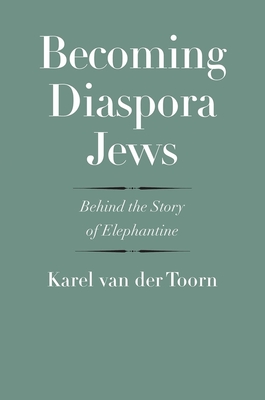 Becoming Diaspora Jews
Behind the Story of Elephantine (The Anchor Yale Bible Reference Library)
Hardcover

* Individual store prices may vary.
Description
Based on a previously unexplored source, this book transforms the way we think about the formation of Jewish identity

This book tells the story of the earliest Jewish diaspora in Egypt in a way it has never been told before. In the fifth century BCE there was a Jewish community on Elephantine Island. Why they spoke Aramaic, venerated Aramean gods besides Yaho, and identified as Arameans is a mystery, but a previously little explored papyrus from Egypt sheds new light on their history.
 
The papyrus shows that the ancestors of the Elephantine Jews came originally from Samaria. Due to political circumstances, they left Israel and lived for a century in an Aramean environment. Around 600 BCE, they moved to Egypt. These migrants to Egypt did not claim a Jewish identity when they arrived, but after the destruction of their temple on the island they chose to deploy their Jewish identity to raise sympathy for their cause. Their story—a typical diaspora tale—is not about remaining Jews in the diaspora, but rather about becoming Jews through the diaspora.
Praise For Becoming Diaspora Jews: Behind the Story of Elephantine (The Anchor Yale Bible Reference Library)…
"In this major contribution, Karel van der Toorn offers a brilliant analysis of the military colony of Elephantine and its integration into a 'Jewish nation.' This book offers a new translation and interpretation of Papyrus Amherst 63, which provides new insights into the life of this Diaspora community. It is a must-read for students and scholars of the Hebrew Bible and early Judaism."—Thomas Römer, Collège de France and University of Lausanne
"In this erudite work, the Jewish community at Elephantine becomes a case study for a wide palette of issues, ranging from the emergence of Judaism to the negotiation of cultural boundaries."—Ronald Hendel, co-author of How Old Is the Hebrew Bible?
"Toorn is aware that his will not be the last word on the subject. That humility, along with his deep erudition, are exactly why this book deserves to be read by anyone interested in one of the most important caches of ancient documents related to the Bible—significant documents that were overshadowed once the Dead Sea Scrolls were discovered."—J. S. Kaminsky, Smith College

Yale University Press, 9780300243512, 288pp.
Publication Date: September 24, 2019
About the Author
Karel van der Toorn is professor of religion and society at the University of Amsterdam. He is the author of the prizewinning Scribal Culture and the Making of the Hebrew Bible, among other publications.
or
Not Currently Available for Direct Purchase