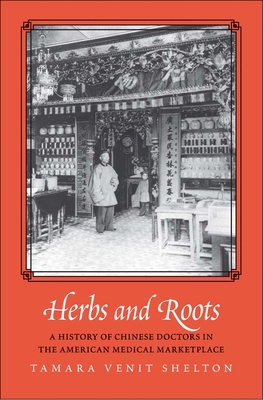 Herbs and Roots (Hardcover)
A History of Chinese Doctors in the American Medical Marketplace
Yale University Press, 9780300243611, 368pp.
Publication Date: November 26, 2019
* Individual store prices may vary.
Description
An innovative, deeply researched history of Chinese medicine in America and the surprising interplay between Eastern and Western medical practice
 
Chinese medicine has a long history in the United States, with written records dating back to the American colonial period. In this intricately crafted history, Tamara Venit Shelton chronicles the dynamic systems of knowledge, therapies, and materia medica crossing between China and the United States from the eighteenth century to the present. Chinese medicine, she argues, has played an important and often unacknowledged role in both facilitating and undermining the consolidation of medical authority among formally trained biomedical scientists in the United States.
 
Practitioners of Chinese medicine, as racial embodiments of "irregular" medicine, became useful foils for Western physicians struggling to assert their superiority of practice. At the same time, Chinese doctors often embraced and successfully employed Orientalist stereotypes to sell their services to non-Chinese patients skeptical of modern biomedicine. What results is a story of racial constructions, immigration politics, cross-cultural medical history, and the lived experiences of Asian Americans in American history.
About the Author
Tamara Venit Shelton is associate professor of history at Claremont McKenna College and author of A Squatter's Republic: Land and the Politics of Monopoly in California, 1850–1900.
Praise For Herbs and Roots: A History of Chinese Doctors in the American Medical Marketplace…
"Fascinating, innovative, and well written. Herbs and Roots provides a comprehensive study of Chinese medicine and its practitioners in the United States, giving us new insights into both race relations and the history of medicine in general."—Bridie Andrews, author of The Making of Modern Chinese Medicine, 1850-1960
"From a treasure trove of primary sources,Tamara Venit Shelton has crafted an important and original contribution to immigration history, medical and health history, and Asian American history."—Nancy Tomes, author of Remaking the American Patient
"Herbs and Roots is a captivating historical account of the development of Chinese medicine in the United States—an interesting read with a fine balance of academic rigor and storytelling."—Ka-Kit Hui, MD, FACP Center for East-West Medicine and Center for Collaborative Centers for Integrative Medicine, University of California, Los Angeles
"Readers will relish this gracefully written volume's rich contribution to the history of immigration, American medicine, and the trans-Pacific journey of traditional Chinese therapeutics."—Alan Kraut, author of Silent Travelers: Germs, Genes, and the "Immigrant Menace"
"Herbs and Roots fills a gap in the current historical scholarship on the cultural history of Chinese medicine as actually practiced in Chinese communities in America"—William C. Summers, author of The Great Manchurian Plague of 19101911: The Geopolitics of an Epidemic Disease