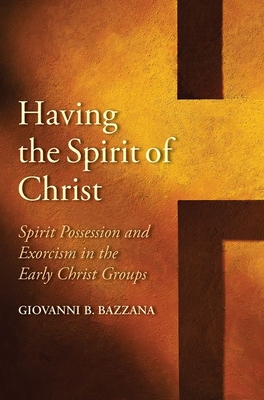 Having the Spirit of Christ (Hardcover)
Spirit Possession and Exorcism in the Early Christ Groups (Synkrisis)
Yale University Press, 9780300245622, 336pp.
Publication Date: January 7, 2020
* Individual store prices may vary.
Description
A provocative reinterpretation of accounts of spirit possession and exorcism in early Christianity

The earliest Christian writings are filled with stories of possession and exorcism, which were crucial for the activity of the historical Jesus and for the practice of his earliest followers. Possession, besides being a harmful event that should be exorcized, can also have a positive role in many cultures. Often it helps individuals and groups to reflect on and reshape their identity, to plan their moral actions, and to remember in a most vivid way their past.
About the Author
Giovanni B. Bazzana is professor of New Testament at Harvard Divinity School. He is the author of Kingdom of Bureaucracy: The Political Theology of Village Scribes in the Sayings Gospel Q and serves on the editorial board of the Harvard Theological Review.
Praise For Having the Spirit of Christ: Spirit Possession and Exorcism in the Early Christ Groups (Synkrisis)…
"This is perhaps the first, and certainly the most serious, work to take in earnest the fact that spirit possession and control of spirits are broadly attested cross-culturally, and should not be sidelined as peripheral and marginal features of human societies. This is a book that changes the game."—John S. Kloppenborg, author of Christ's Associations
"Engaging contemporary anthropological theories, Bazzana focuses on the gospels and Paul's letters, placing them with precision among a host of ancient texts. This book helps readers to rethink the worldview of the earliest Christ-followers, whose practices of spirit possession may have produced ideas about the past and about subjectivity that we haven't yet comprehended."—Laura Salah Nasrallah, author of Archaeology and the Letters of Paul
"Bazzana challenges readers to take exorcisms and possessions seriously as crucial, embodied, and practical features of Jesus's and the Christ groups' historical activity."—Jennifer Knust, Duke University
 
"A watershed study of spirit possession and control of spirits among the first generation of Jesus followers, this is a book that will spur lively debate and repay attention for years to come."—Harry O. Maier, author of New Testament Christianity in the Roman World
"Combining possessions in the stories of Jesus in the gospels and Paul's rhetoric of being 'in Christ,' Bazzana has laid the groundwork for a completely new approach to the study of possessions in Early Christianity. A stunning achievement."—Halvor Moxnes, University of Oslo