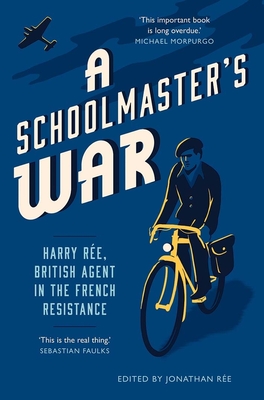 A Schoolmaster's War
Harry Ree, British Agent in the French Resistance
Hardcover

* Individual store prices may vary.
Other Editions of This Title:
Paperback (4/27/2021)
Description
The wartime adventures of the legendary SOE agent Harry Rée, told in his own words

A school teacher at the start of the war, Harry Rée renounced his former pacifism with the fall of France in 1940. He was deployed into a secret branch of the British army and parachuted into central France in April 1943.

Harry showed a particular talent for winning the confidence of local resisters, and guided them in a series of dramatic sabotage operations, before getting into a hand-to-hand fight with an armed German officer, from which he was lucky to escape.

This might seem like a romantic story of heroism and derring-do, but Harry Rée's own war writings, superbly edited and contextualized by his son, the philosopher Jonathan Rée, are far more nuanced, shot through with doubts, regrets, and grief.
Praise For A Schoolmaster's War: Harry Ree, British Agent in the French Resistance…
"In a book devoted to heroism in its true, self-effacing form, that modesty seems entirely appropriate, and is a tribute both to Ree and to the son who put it together."—Andrew Holgate,
The Sunday Times 
"Harry Rée, teacher, pacifist, defender of liberty, was a great man, dear to his family and friends, a hugely respected educationist, and a quiet hero. This important book is long overdue. Read it and be inspired by a life well and bravely lived."—Michael Morpurgo 
"This is the real thing. As an account The Schoolmaster's War scores highly in terms of detail and reliability. It lacks any sense of myth making, concealment or boasting — qualities quite common in many SOE memoirs."—Sebastian Faulks
''A fascinating story, not just of spectacular shootouts, parachute drops, and derring-do but of day to day living behind the lines as an Englishman who had literally dropped out of the sky.  Harry Rée does not duck away from the harsh reality of the war and the personal tragedy of many of the French people he worked with - those who befriended him, fed him, sheltered him, risked death, arrest and torture for him.… Possibly one of the last of these stories of the like we will never see again."— Keggie Carew, author of
Dadland
"A beautiful collection of writings by schoolmaster-turned-secret agent Harry Rée … Memoirs, postwar broadcasts and letters from French comrades combine to paint a picture of everyday heroism, treachery and tragedy."—Robert Gildea, author of Fighters in the Shadows: A New History of the French Resistance
"Terrific in the detail and the authenticity, the humanity and the immediacy. The fear and dread mixed with the holiday spirit is remarkable."—Nick Rankin, author of
Churchill's Wizards
Yale University Press, 9780300245660, 192pp.
Publication Date: May 8, 2020
About the Author
Harry Rée, DSO, OBE, was a British school teacher and educator and a wartime member of the Special Operations Executive. His son Jonathan Rée is a freelance historian and philosopher. His books include Philosophical Tales, I See a Voice, and Witcraft.