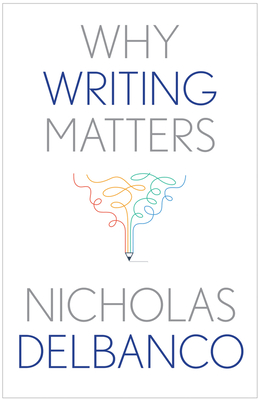 Why Writing Matters (Why X Matters Series) (Hardcover)
Yale University Press, 9780300245974, 296pp.
Publication Date: March 17, 2020
* Individual store prices may vary.
Description
Drawing lessons from writers of all ages and writing across genres, a distinguished teacher and writer reveals the enduring importance of writing for our time

In this new contribution to Yale University Press's Why X Matters series, a distinguished writer and scholar tackles central questions of the discipline of writing. Drawing on his own experience with mentors such as John Updike, John Gardner, and James Baldwin, and in turn having taught such rising stars as Jesmyn Ward, Delbanco looks in particular at questions of influence and the contradictory, simultaneous impulses toward imitation and originality. Part memoir, part literary history, and part analysis, this unique text will resonate with students, writers, writing teachers, and bibliophiles.
About the Author
Nicholas Delbanco is the Robert Frost Distinguished University Professor Emeritus of English Language and Literature at the University of Michigan. The author of some thirty books of fiction and nonfiction, he lives in New York City and Cape Cod.
Praise For Why Writing Matters (Why X Matters Series)…
"The insights on workshop dynamics, the smart observations, the loving attention to words and voice, the wisdom acquired by many years of reading, writing, and teaching, make this a valuable, entertaining, and accessible study of writing."—Robert Morgan, Cornell University

 
"The wisdom of a superb, experienced writer and inspired teacher are here distilled for our pleasure.  We have much to learn from Delbanco's maturity, broad perspective and erudition—not least his kindness and encouragement when all is said and done, his devotion to literature and to all those who struggle to achieve it."—Phillip Lopate, author of To Show and to Tell
"This book is a tribute to rigor, to close reading, to paying attention. Reading it is like participating in an exclusive workshop taught by a master of the craft."—Christina Baker Kline, author of Orphan Train
"Superb writer, erudite scholar, wise teacher—Delbanco makes the written word sing, and how. No reader of this book—itself an impassioned work of literature—will ever take writing for granted again."—James Carroll, author of Constantine's Sword
"Nicholas Delbanco has long been not only one of America's finest writers but also teachers of the craft. And Why Writing Matters is his generous gift to us all—filled with wisdom, revelations, and, of course, exquisite writing. We might not have been able to attend his masterclass on the power of words, but thankfully we can cherish these pages, which prove it."—David Grann, author of Killers of the Flower Moon