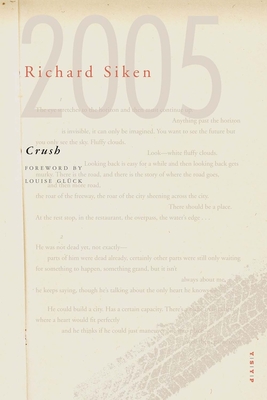 Crush (Yale Series of Younger Poets) (Paperback)
Yale University Press, 9780300246308, 80pp.
Publication Date: October 22, 2019
Other Editions of This Title:
Paperback (4/11/2005)
Hardcover (3/1/2005)
* Individual store prices may vary.
Description
This collection about obsession and love is the 99th volume of the Yale Series of Younger Poets
 
Richard Siken's Crush, selected as the 2004 winner of the Yale Younger Poets prize, is a powerful collection of poems driven by obsession and love. Siken writes with ferocity, and his reader hurtles unstoppably with him. His poetry is confessional, gay, savage, and charged with violent eroticism. In the world of American poetry, Siken's voice is striking.
About the Author
Richard Siken is cofounder and editor of the literary magazine spork. He received two Arizona Commission on the Arts grants, two Lannan Residency Fellowships, and a Literature Fellowship in Poetry from the National Endowment for the Arts.
Praise For Crush (Yale Series of Younger Poets)…
"Siken writes about love, desire, violence, and eroticism with a cinematic brilliance and urgency that makes this one of the best books of contemporary poetry."—Victoria Chang, Huffington Post
"Vital, immediate, and cinematic in scope, [Siken's] verse offers sharply observed vignettes of longing, love, and pain."—Library Journal (Best Poetry of 2005)
"Siken's debut collection derives its energy from the friction among bodies, selves, and lovers. . . . This book will excite patrons and be long remembered. Recommended for all collections."—Library Journal
"Vital, immediate, and cinematic in scope, [Siken's] verse offers sharply observed vignettes of longing, love, and pain."—Library Journal (Best Poetry of 2005)
"Crush embodies an impressive unity of sex, the currents of feeling that carry us helplessly, fleeting encounters that often promise physical transcendence but leave us unloved or emotionally drained. . . . Crush is a vivid, fast-paced book that may be read as a single, powerful sequence."—Antioch Review
"Every poem in Crush is every bit as immediate, engaging, and absorptive as the best films; [Siken] holds the reader rapt, making it almost impossible to look away from the beautiful and troubling scenes he sets. . . . Siken's breathtaking debut possesses all the ingredients of poet Charles Harper Webb's formula for great poetry: wit, passion, and impropriety. Through his powerful use of the second person, Siken reaches out to you, the reader, pulls you into his picture show, makes you the reluctant star. By the end of the collection, you are left feeling implicated, participatory."—Kathleen Rooney, New Hampshire Review
"Siken's debut collection, 15 years in the making, hurls the reader into a world of nerve-wracked love–relationships haunted by obsession and futility–expressed with such eloquence as to make the pain of it strangely alluring. With sophisticated wordplay and provocative shifts between first and second person, Siken expresses a frustration with earthbound details and bodily confinement. He effectively juxtaposes holy wishes with mundane images–making them both seem beautiful by some strange lyrical alchemy–throwing love in with the sock drawer."—Nell Casey, poetryfoundation.org
"An explosive, frantic splash of language and imagery that depicts both tremendous tenderness and vivid violence between male lovers. Richard Siken writes a pulsing, rambling, surrealistic, and cinematic verse. . . . While the language and energy and pure sensational vision of this poetry might seep into your soul like the whiskey so often invoked in these pages, you will taste the salt of blood on your tongue after you finish reading Crush—and you will never look at love and the comfort it promises the same way again."—Maureen Picard Robins, Rain Taxi
"Richard Siken's artistry is, quite frankly, astounding. . . . His talent is evident on almost every page. His world might be a dark one, but his writing shimmers."—Barbara Wiedemann, Magill Book Reviews
Finalist for the 2005 National Book Critics Circle Award in Poetry
Winner of the 2005 Thom Gunn Award for Gay Poetry, sponsored by The Publishing Triangle
"Crush is a wondrous, brilliant book. Richard Siken's poetry is daring in its construction, graceful yet startling in its beauty, and complicit with emotions and states of mind that would have remained unintelligible without him."—Dennis Cooper