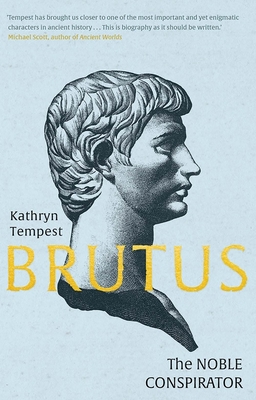 Brutus
The Noble Conspirator
Paperback

* Individual store prices may vary.
Other Editions of This Title:
Compact Disc (11/21/2017)
Hardcover (11/21/2017)
Description
A compelling new portrait of Marcus Brutus delves behind the ancient evidence to set aside the myths that surround the ancient world's most famous assassin

Conspirator and assassin, philosopher and statesman, promoter of peace and commander in war, Marcus Brutus (ca. 85–42 BC) was a controversial and enigmatic man even to those who knew him. His leading role in the murder of Julius Caesar on the Ides of March, 44 BC, immortalized his name forever, but the verdict on his act remains out to this day. Was Brutus wrong to kill his friend and benefactor, or was he right to place his duty to country ahead of personal obligations?
 
In this comprehensive and stimulating biography Kathryn Tempest delves into contemporary sources to bring to light the personal and political struggles Brutus faced. As the details are revealed—from his own correspondence with Cicero, from the perceptions of his peers, and from the Roman aristocratic values and concepts that held sway in his time—Brutus emerges from legend, revealed to us more surely than ever before.
Praise For Brutus: The Noble Conspirator…
"Tempest writes as clearly as she thinks. . . A valuable contribution to the field, which deserves to be widely read."—Prof. Matthew Leigh, History Today
"Kathryn Tempest leads us into the complexities and contradictions in the life and legacy of Brutus, a figure who has provoked controversy through the ages."—James Romm, TLS
"Thoughtful, clear and with thorough references and appendixes, this should be a valuable resource for anyone interested in delving in Brutus the historical figure, and Brutus the person."—Library Journal
"Tempest's analysis of letters and other historical sources is excellent."—Richard Weigel, Bowling Green Daily News
Winner of the Outstanding Academic Title for 2018 award sponsored by Choice
"A beautifully written and thought-provoking book."—Christopher Pelling, author of Plutarch and History
"Engagingly written and admirably researched, Tempest's new biography gets us closer than we have ever been to recovering the authentic Marcus Brutus. Tempest supplies new perspectives on evidence we believed we already knew well and, while remaining far from hagiography, makes clear the man's remarkable historical importance." — W. Jeffrey Tatum, author of Always I am Caesar
 
"Kathryn Tempest has brought us closer to one of the most important and yet enigmatic characters in ancient history and offers a portrait of a 'noble conspirator' at a time of great unrest in Rome's history: capable, ambitious, in many ways honourable, and certainly deserving of emerging from Caesar's shadow. This is biography as it should be written."—Michael Scott, author of Ancient Worlds: An Epic History of East and West
 
"Brutus the tyrannicide has been romanticised, idealised and demonised for two thousand years. Tempest deftly disentangles 'the noblest Roman of them all' from all these fictions and reveals the Brutus his own contemporaries knew and puzzled over. Essential reading."—Greg Woolf, author of Rome: An Empire's Story
Yale University Press, 9780300246643, 336pp.
Publication Date: October 28, 2019
About the Author
Kathryn Tempest is senior lecturer in Latin literature and Roman history, University of Roehampton, and author of Cicero: Politics and Persuasion in Ancient Rome. She lives in Surrey, UK.