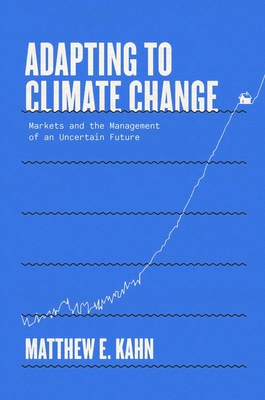 Adapting to Climate Change
Markets and the Management of an Uncertain Future
Hardcover

* Individual store prices may vary.
Description
A revelatory study of how climate change will affect individual economic decisions, and the broad impact of those choices

Selected by Publishers Weekly as one of its Top Ten books in Business and Economics for Spring 2021

It is all but certain that the next century will be hotter than any we've experienced before. Even if we get serious about fighting climate change, it's clear that we will need to adapt to the changes already underway in our environment. This book considers how individual economic choices in response to climate change will transform the larger economy. Using the tools of microeconomics, Matthew E. Kahn explores how decisions about where we live, how our food is grown, and where new business ventures choose to locate are affected by climate change. Kahn suggests new ways that big data can be deployed to ease energy or water shortages to aid agricultural operations and proposes informed policy changes related to public infrastructure, disaster relief, and real estate to nudge land use, transportation options, and business development in the right direction.
Praise For Adapting to Climate Change: Markets and the Management of an Uncertain Future…
"Are you looking for an approach that recognizes the costs of climate change, and approaches the entire question with an economic and political sanity? Matthew E. Kahn's new book Adapting to Climate Change is then essential reading."—Tyler Cowen, George Mason University



 
"The COVID-19 crisis dramatically changed the way the world lives and works; but climate change poses an even greater challenge. Matt Kahn argues the best way to meet that challenge lies less in top-down government programs and more in using policy to nudge corporations and millions of people to make better individual decisions. A must read for everyone concerned with humanity's future."—Richard Florida, author of The Rise of the Creative Class
"A balanced, eye-opening analysis of how individual choices and markets can lead to better outcomes in our struggle to arrest climate change. This book will give you a measure of optimism about our ability to survive without paying a high price in standards of living."—Mauro Guillen, author of the bestselling 2030: How Today's Biggest Trends Will Collide and Reshape the Future of Everything

Yale University Press, 9780300246711, 304pp.
Publication Date: March 30, 2021
About the Author
Matthew E. Kahn is the Bloomberg Distinguished Professor of Economics and Business at Johns Hopkins University and he is a Provost Professor of Economics at the University of Southern California.