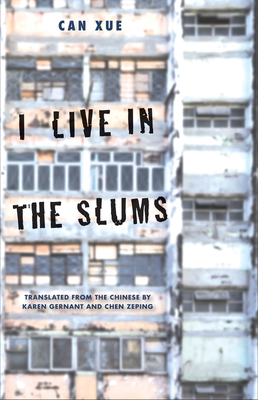 I Live in the Slums
Stories (The Margellos World Republic of Letters)
Hardcover

* Individual store prices may vary.
Description
Longlisted for the 2021 International Booker Prize

A major new collection of stories by one of the most exciting and creative voices in contemporary Chinese literature

Can Xue's stories observe no obvious conventions of plot or characterization. That is the only rule they follow. Instead, they tend to limn a disordered and poetic state given structure by philosophical wonder and emotional rigor.
 
Combining elements of both Chinese materiality—the love of physical things—and Western abstract thinking, Can Xue invites her readers into an immersive landscape that blends empirical fact and illusion, mixes the physical and spiritual, and probes the space between consciousness and oblivion. She brings us to a place that is both readily familiar yet unmappable and can make us hyperaware of the inherent unreliability in our relationship to the world around us. Delightful, enchanting, and filled with secrets, Can Xue's newest collection shines a light on the forces that give contours to the visible terrain we acknowledge as reality.
Praise For I Live in the Slums: Stories (The Margellos World Republic of Letters)…
"Sixteen dreamlike stories, translated from the Chinese, merge the physical and the philosophical."—New York Times Book Review

"[An] eerie, unpredictable, cracked and crazy world . . . Sheer reading pleasure for sophisticated readers and a worthy starting point for initiates."—Library Journal

"[An] exquisite collection . . . Can Xue is a master at twisting philosophical ideas into realities that seem simple but are incredibly thoughtful and intricate. These sixteen poetic stories have astonishing depth that will transfix readers."—Emily Park, Booklist

"There's something inescapably cosmic about [Can Xue's] writing: the grandness of her vision, the abstraction of her thought, the way the details of lived reality seem to shrink and assume an equal significance, as though one were orbiting a distant star and peering down."—Bailey Trela, Los Angeles Review of Books

"Wade into the often unsettlingly beautiful universe Can Xue has created until you are swimming in it, your head beneath the water."—Julie Cadman, Michigan Quarterly Review

"Can Xue is like the Lady Gaga of modern Chinese literature. Both are enthroned sphinxes of world culture today. . . . [Can Xue's] work is often outlandish and macabre, eschewing narrative conventions of linearity; it can be comical, but also somber. . . . Her latest short fiction collection, I Live in the Slums, fully lives up to that colorful reputation."—Victoria Zhuang, Harvard Review

Longlisted for the 2021 National Translation Award in Prose, sponsored by The American Literary Translators Association 


Yale University Press, 9780300247435, 344pp.
Publication Date: May 19, 2020
About the Author
Can Xue is the pseudonym of the renowned avant‑garde author Deng Xiaohua. Her previous works include Five Spice Street, Vertical Motion, The Last Lover, Frontier, and Love in the New Millennium.Karen Gernant is professor emerita of Chinese history at Southern Oregon University. Chen Zeping is professor of Chinese linguistics at Fujian Normal University, Fuzhou.