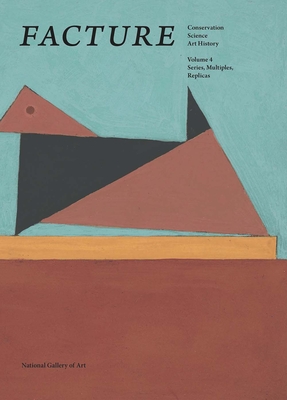 Facture (Paperback)
Conservation, Science, Art History: Volume 4: Series, Multiples, Replicas
National Gallery Washington, 9780300247619, 288pp.
Publication Date: January 7, 2020
Other Editions of This Title:
Paperback (10/8/2013)
Paperback (8/15/2017)
Paperback (9/8/2015)
* Individual store prices may vary.
Description
A rigorous and wide-ranging investigation of the techniques and reasons behind the artistic practice of replication

Volume 4 of the National Gallery of Art's biennial conservation research journal Facture examines the complex themes of series, multiples, and replicas. With a broad historical purview that spans from the Renaissance to the 20th century, this publication considers various modes of replication—by the artist's own hand or workshop, as a posthumous creation, or as a preferred practice—and their motivations. Drawing on new research into materials and techniques, nine essays focus on works in diverse media by artists such as Sandro Botticelli, Auguste Rodin, and Robert Rauschenberg and present intriguing conclusions about the nature of serialization and the relationships among multiple versions of a composition. Filled with spectacularly detailed photographs and fresh discoveries, this volume provides exceptional insight into these extraordinary works of art and offers the possibility of exciting new avenues of inquiry.
About the Author
Daphne Barbour is senior object conservator and Suzanne Quillen Lomax is senior conservation scientist, both at the National Gallery of Art, Washington.