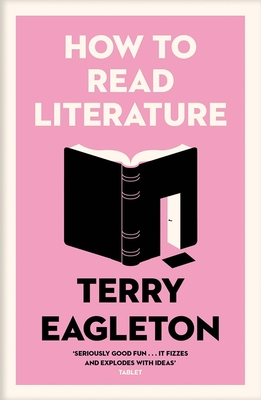 How to Read Literature (Paperback)
Yale University Press, 9780300247640, 232pp.
Publication Date: September 24, 2019
Other Editions of This Title:
Paperback (4/29/2014)
Hardcover (5/21/2013)
* Individual store prices may vary.
Description
A literary master's entertaining guide to reading with deeper insight, better understanding, and greater pleasure
 
"Part of the fun of the book is the way in which Eagleton prompts, provokes and at times infuriates. . . . An ideal introductory guide to critical analysis, and a thoroughly enjoyable reminder of Eagleton's own skill and subtlety as a reader."—Felicity James, Times Higher Education Supplement
 
"This book is seriously good fun. . . . It fizzles and explodes with ideas. You don't have to be either teacher or beginner to relish it: Eagleton is so full of enthusiasm that you just need to be able to read."—Sue Gaisford, The Tablet
About the Author
Terry Eagleton is Distinguished Visiting Professor of English Literature at Lancaster University and the author of more than fifty books in the fields of literary theory, postmodernism, politics, ideology, and religion. He lives in Northern Ireland.
Praise For How to Read Literature…
"Lively and engaging. . . . English 101 in a book."—Michael Lindgren, Washington Post
"Part of the fun of the book is the way in which Eagleton prompts, provokes and at times infuriates. How to read How to Read Literature? . . . as an ideal introductory guide to critical analysis, and a thoroughly enjoyable reminder of Eagleton's own skill and subtlety as a reader."—Felicity James, Times Higher Education Supplement
"A pleasingly readable overview of what we talk about when we talk about books. . . . Incisive and honest."—Michael Washburn, Boston Globe
"This is Eagleton at his most charming and an excellent guide for literature students early in their education or those seeking a refresher course."—Publishers Weekly
"A genial guide to exactly what the title promises. . . This short book benefits from a conversational, even humorous tone. . . Includes a very funny exegesis of 'Baa Baa Black Sheep' and an interpretive linkage of Dickens and Harry Potter."—Kirkus Reviews
"This is not only an entertaining book, it's an important one. What Eagleton refers to as "slow reading", after Nietzsche, seems horribly endangered as a human activity. He draws us back to basics here, in a sequence of sharp analyses, taking into account the essential aspects of intelligent reading. I love his breezy style, so accessible and concrete; yet he never sacrifices nuance or subtlety. This is a book for every reader, not only beginners, yet it will prove immensely useful in the classroom."—Jay Parini, author of Why Poetry Matters