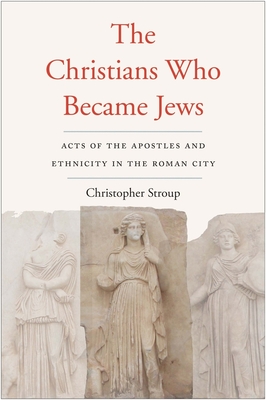 The Christians Who Became Jews
Acts of the Apostles and Ethnicity in the Roman City (Synkrisis)
Hardcover

* Individual store prices may vary.
Description
A fresh look at Acts of the Apostles and its depiction of Jewish identity within the larger Roman era

When considering Jewish identity in Acts of the Apostles, scholars have often emphasized Jewish and Christian religious difference, an emphasis that masks the intersections of civic, ethnic, and religious identifications in antiquity. Christopher Stroup's innovative work explores the depiction of Jewish and Christian identity by analyzing ethnicity within a broader material and epigraphic context. Examining Acts through a new lens, he shows that the text presents Jews and Jewish identity in multiple, complex ways, rather than as a simple foil for Christianity.
 
Stroup convincingly argues that when the modern distinctions among ethnic, religious, and civic identities are suspended, the innovative ethnic rhetoric of the author of Acts comes into focus. The author of Acts leverages the power of gods, ancestry, and physical space to legitimate Christian identity as a type of Jewish identity and to present Christian non-Jews as Jewish converts through the power of the Holy Spirit.
Praise For The Christians Who Became Jews: Acts of the Apostles and Ethnicity in the Roman City (Synkrisis)…
"If ancient gods and humans formed family groups, what did it mean for non-Jews to make an exclusive commitment to the god of Israel? Reading Acts with this question in mind, Christopher Stroup creatively explores how Luke reconfigured ethnicity, identity and divinity within the matrix of the early imperial city."—Paula Fredriksen, author of When Christians Were Jews
 

"Stroup combines archaeology and theory to push well beyond previous discussions of the identity of both Jews and followers of Jesus in Acts. This is the new required discussion partner on these issues!"—Lawrence M. Wills, author of Not God's People

"Ingeniously conceived and brilliantly argued, this book is a major step forward in our understanding of Acts and how being a follower of Jesus was a way of being both a real Jew and distinct from other Jews in the Roman World."—Guy MacLean Rogers, Wellesley College
 

"A welcome intervention, this bold and engaging volume demands a new approach to Acts and Christian origins. This is a necessary book, valuable for anyone interested in the interpretation of Acts, the rise of Christianity, and discursive constructions of human difference."—Jennifer Knust, Duke University
 

"This insightful volume convincingly challenges the common notion that 'Jew' is an ethnic category, while 'Christian' is its nonethnic opposite. In this masterful demonstration of interdisciplinary scholarship, Stroup provides a fresh and provocative reading of one of the earliest Christian attempts at rhetorical identity formation, the Acts of the Apostles."—Michal Beth Dinkler, author of Literary Theory and the New Testament
 


Yale University Press, 9780300247893, 240pp.
Publication Date: April 21, 2020
About the Author
Christopher Stroup is the director of strategic initiatives and growth at the Joy to the World Foundation and a part‑time faculty member at the School of Theology and Ministry at Boston College.