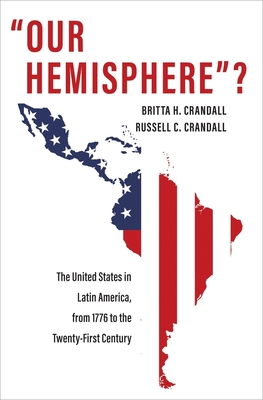 "Our Hemisphere"?
The United States in Latin America, from 1776 to the Twenty-First Century
Paperback

* Individual store prices may vary.
Description
An accessible exploration of U.S.–Latin American relations. from the colonial period to the present day
 
"'Our Hemisphere'? is a balanced and nuanced portrayal of the history of U.S.–Latin American relations. The attention given to more recent episodes on immigration, the drug war and U.S. policy toward Cuba and Venezuela, is especially welcome."—Allen Wells, author of Tropical Zion: General Trujillo, FDR and the Jews of Sosúa

"Our Hemisphere"? uncovers the range, depth, and veracity of the United States' relationship with the Americas. Using short historical vignettes, Britta and Russell Crandall chart the course of inter‑American relations from 1776 to the present, highlighting the roles that individuals and groups of soldiers, intellectuals, private citizens, and politicians have had in shaping U.S. policy toward Latin America in the postcolonial, Cold War, and post–Cold War eras. The United States is usually and correctly seen as pursuing a monolithic, hegemonic agenda in Latin America, wielding political, economic, and military muscle to force Latin American countries to do its bidding, but the Crandalls reveal unexpected yet salient regional interactions where Latin Americans have exercised their own power with their northern and very powerful neighbor. Moreover, they show that Washington's relationship with the region has relied, in addition to the usual heavy‑handedness, on cooperation and mutual respect since the beginning of the relationship.
Yale University Press, 9780300248104, 504pp.
Publication Date: November 30, 2021
About the Author
Britta and Russell Crandall are professors of international politics and American foreign policy at Davidson College and have been teaching US–Latin American relations to undergraduates and graduate students over the past two decades.