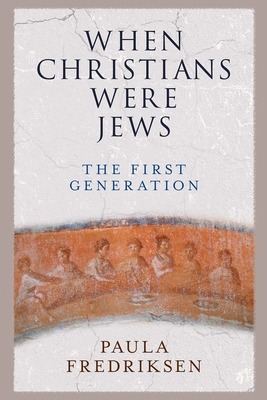 When Christians Were Jews
The First Generation
Paperback

* Individual store prices may vary.
Other Editions of This Title:
Hardcover (10/23/2018)
Compact Disc (12/4/2018)
MP3 CD (12/4/2018)
Description
A compelling account of Christianity's Jewish beginnings, from one of the world's leading scholars of ancient religion

How did a group of charismatic, apocalyptic Jewish missionaries, working to prepare their world for the impending realization of God's promises to Israel, end up inaugurating a movement that would grow into the gentile church? Committed to Jesus's prophecy—"The Kingdom of God is at hand!"—they were, in their own eyes, history's last generation. But in history's eyes, they became the first Christians.
 
In this electrifying social and intellectual history, Paula Fredriksen answers this question by reconstructing the life of the earliest Jerusalem community. As her account arcs from this group's hopeful celebration of Passover with Jesus, through their bitter controversies that fragmented the movement's midcentury missions, to the city's fiery end in the Roman destruction of Jerusalem, she brings this vibrant apostolic community to life. Fredriksen offers a vivid portrait both of this temple‑centered messianic movement and of the bedrock convictions that animated and sustained it.
Praise For When Christians Were Jews: The First Generation…
"Prof Fredriksen offers a vivid portrait both of this temple-centred messianic movement and of the bedrock convictions that animated it and sustained it."—John Singleton,
Methodist Recorder
"A fascinating book about a crucial moment in Jewish history"—Jonathan Kirsch,
Jewish Journal
"Rewarding"—Aaron Howard,
Jewish Herald Voice
(Houston)
"A succinct account of the earliest stage of what became Christianity . . . thought-provoking . . . intriguing . . . Fredriksen is always stimulating and writes with a verve that makes the ancient time come alive."—Larry W. Hurtado,
Marginalia
"A lucid and straightforward narrative. . . . Fredriksen's style is enviably readable."—Andrew S. Jacobs,
Bryn Mawr Classical Review
"[A] deeply learned engagement with ancient sources that can be read by a total novice or a colleague."—Andrew Jacobs,
Bryn Mawr Classical Review
"Complex and fascinating . . . easy for non-scholars to read . . . Anyone interested in Judaism in the first century C.E., or in the early history of Christianity, will find this book a welcome addition."—Rabbi Rachel Esserman,
The Reporter
(Vestal, NY)
"A significant contribution . . .
When Christians Were Jews
is an inviting introduction into this important period that will stimulate and challenge readers of all backgrounds and faith traditions."—Malka Z. Simkovich,
Christian Century
"An accessible synthesis of [Fredriksen's] scholarly work, focused on the first four decades of the church . . . [with] erudition and elegant prose."—Brad East,
Los Angeles Review of Books
"Admirable."—R.E. Winn,
Choice
"Crisp, accessible . . . [an] excellent book"—Noah Benjamin Bickart,
Jewish Review of Books 
"[Fredriksen] argues persuasively. . . The book is a page-turner."—Harry O. Maier,
Journal of Church and State
"A scintillating, original, and brilliantly concise synthesis."—Jack Miles, author of
God: A Biography
"A characteristically lucid, focused and beautifully-written argument. Fredriksen sits the early Christian movement firmly within Judaism, revealing it as radically eschatological, variegated, evolving—and far less critical of ancestral customs and norms than is traditionally imagined."—Joan E. Taylor, author of 
What Did Jesus Look Like?
"Engaging, provocative, and admirably lucid, this account of the Jewish origins of earliest Christianity will force readers at all levels to reconsider their assumptions and rethink their views."—Bart D. Ehrman, author of
Jesus: Apocalyptic Prophet of the New Millennium
"Eloquent, informed, and provocative, this book offers a necessary corrective to a number of prevailing views of Jesus, Paul, and the Gospel writers. Paula Fredriksen advances the studies of both Judaism and Christianity."—Amy-Jill Levine, author of 
Short Stories by Jesus: The Enigmatic Parables of a Controversial Rabbi
"Paula Fredriksen tells with brio the gripping story of the early Jewish followers of Jesus and their expectations of the end. She traces with empathy and scholarly precision their changing perspectives as events unfolded in ways unanticipated."—Martin Goodman, author of A History of Judaism
Yale University Press, 9780300248401, 280pp.
Publication Date: August 6, 2019
About the Author
Paula Fredriksen, Aurelio Professor of Scripture emerita at Boston University, is Distinguished Visiting Professor of Comparative Religion at the Hebrew University of Jerusalem.