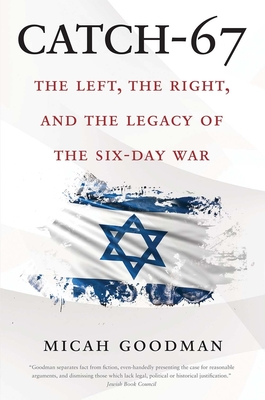 Catch-67
The Left, the Right, and the Legacy of the Six-Day War
Paperback

* Individual store prices may vary.
Other Editions of This Title:
MP3 CD (9/25/2018)
Compact Disc (9/25/2018)
MP3 CD (9/25/2018)
Compact Disc (9/25/2018)
Hardcover (9/18/2018)
Description
A controversial examination of the internal Israeli debate over the Israeli-Palestinian conflict from a best-selling Israeli author

Since the Six-Day War, Israelis have been entrenched in a national debate over whether to keep the land they conquered or to return some, if not all, of the territories to Palestinians. In 2017, best-selling Israeli author Micah Goodman published a balanced and insightful analysis of the situation that quickly became one of Israel's most debated books of the year. Now available in English translation with a new preface by the author, Catch-67 deftly sheds light on the ideas that have shaped Israelis' thinking on both sides of the debate, and among secular and religious Jews about the Israeli‑Palestinian conflict.

Contrary to opinions that dominate the discussion, he shows that the paradox of Israeli political discourse is that both sides are right in what they affirm—and wrong in what they deny. Although he concludes that the conflict cannot be solved, Goodman is far from a pessimist and explores how instead it can be reduced in scope and danger through limited, practical steps. Through philosophical critique and political analysis, Goodman builds a creative, compelling case for pragmatism in a dispute where a comprehensive solution seems impossible.
Praise For Catch-67: The Left, the Right, and the Legacy of the Six-Day War…
"The author's voice is calm, rational, analytical. . . . Beneath the narrative lies a strong foundation of historical and religious research, solid organizational principles, and clear, informed prose. . . . An eloquent expression of the distant hope that deeply committed human beings can stop, inhale deeply, listen, change, and compromise."—
Kirkus Reviews
, Starred Review 
"Goodman's vision is simple: Israel can't go back. But Israelis can still extricate themselves from the zero-sum game, heal their ideological wounds, and only then begin thinking clearly again about peace with the Palestinians."—Mark Horowitz,
Tablet
 "A must for anyone who wants to understand the tectonic forces underlying Israeli politics."—Rabbi Robert Orkand,
Reform Judaism
"Goodman separates fact from fiction, even-handedly presenting the case for reasonable arguments, and dismissing those which lack legal, political or historical justification."—
Jewish Book Council
"Probably the best guide produced in recent years to the present state of Israeli political discourse, and to its woeful limitations."—Haviv Gur,
Mosaic
, The Best Books of 2018
"
Catch-67
 is a book that dares to imagine a solution to one of the most intractable geopolitical conflicts in the long history of the Jewish people, but Goodman also embraces a more modest goal: 'I have sought throughout to acquire an understanding heart; to listen with empathy to different viewpoints; and, guided by the spirit of the Talmud, to try to rehabilitate Israel's fractured conversation.' In that effort, he has succeeded magnificently."—Jonathan Kirsch,
Jewish Journal 
"An astonishingly succinct and trenchant guide to the complexities of the internal Israeli debate."—Peter Berkowitz,
RealClearPolitics
"
Catch-67
plumbs the ideological and historical depths of the arguments of both the right and the left, treating them with equal respect. Goodman's book won't bring an end to what has long been our most urgent national conversation, but it does demonstrate, by both precept and example, how best to participate in it."—Avi Shilon,
Jewish Review of Books
"Goodman emerges as a thinking, open person who is not fixed in his ideas, and is sincerely searching for a way to create an exit from the maze in which we're trapped. He is endowed with a real ability to listen, something rare in these parts."—Ehud Barak, Haaretz
"Micah Goodman offers us a way forward through introducing a different kind of dialogue into a deeply divided Israeli society. By shifting the debate away from empty slogans and towards concrete solutions, he provides a way out of the rut that we've been in since 1967 and enables us to make the tough decisions, heal the rifts and continue to live as one people."—Tzipi Livni, former Foreign Minister of Israel
Yale University Press, 9780300248418, 264pp.
Publication Date: October 8, 2019
About the Author
Micah Goodman is the author of four best-selling books in Israel including Maimonides and the Book That Changed Judaism. He is president of Beit Midrash Yisraeli–Ein Prat, and a senior fellow at the Shalom Hartman Institute in Jerusalem.