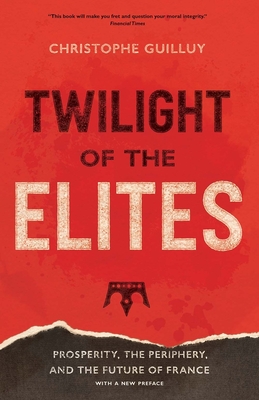 Twilight of the Elites
Prosperity, the Periphery, and the Future of France
Paperback

* Individual store prices may vary.
Other Editions of This Title:
Digital Audiobook (5/13/2019)
Hardcover (1/8/2019)
MP3 CD (5/14/2019)
Compact Disc (5/14/2019)
Description
A passionate account of how the gulf between France's metropolitan elites and its working classes are tearing the country apart
 
Christophe Guilluy, a French geographer, makes the case that France has become an "American society"—one that is both increasingly multicultural and increasingly unequal. The divide between the global economy's winners and losers in today's France has replaced the old left‑right split, leaving many on "the periphery."
 
As Guilluy shows, there is no unified French economy, and those cut off from the country's new economic citadels suffer disproportionately on both economic and social fronts. In Guilluy's analysis, the lip service paid to the idea of an "open society" in France is a smoke screen meant to hide the emergence of a closed society, walled off for the benefit of the upper classes. The ruling classes in France are reaching a dangerous stage, he argues; without the stability of a growing economy, the hope for those excluded from growth is extinguished, undermining the legitimacy of a multicultural nation.
Praise For Twilight of the Elites: Prosperity, the Periphery, and the Future of France…
"This book will make you fret and question your moral integrity."—Financial Times

"Guilluy, whose work is not universally admired in France, particularly by academic geographers and many on the left, seems to have seen it all coming. So there will be considerable interest in his latest work, published in French as Le Crépuscule de la France d'en haut in 2016 and now, by Yale. In a further development of his now-familiar argument, he tackles head on – and with great virulence – the flip side of La France périphérique, those he considers largely responsible for the country's profound social, economic and political dislocation: hipsters, who the French call bourgeois-bohèmes or bobos."— Jon Henley, The Guardian

"An indispensable guide to understanding the fears and frustrations of an increasingly permanent underclass—not just in France, but throughout the world. . . . Disturbing and affecting . . . [Guilluy] has hit on something profound that extends well beyond the borders of France."—Jonathan A. Knee, New York Times

"[Guilluy] argues that France now has all the conditions in place for a 'slave rebellion.' . . . [His] polemic seems all the more prescient in light of the gilets jaunes protesters, who have caused havoc in Paris."—Philip Delves Broughton, Wall Street Journal

"This is a book with direct relevance outside France. Observing that metropolisation is "the domestic corollary of globalisation", Guilluy cites London as "the quintessential ... citadel city". Condemning elites, speaking up for the disregarded, he writes scathing, analytical Marxist class history very effectively...essential reading"— David Sexton, Evening Standard

"This is indeed a remarkably prescient and powerful work, which not only is a frightening and accurate analysis of what seems to be happening right now in France, but also may well be an insight into what happens next." — Andrew Hussey, Literary Review

"Written long before the riots began, this acute analysis explains the gilets jaunes" —Peter Conradi, Sunday Times (London)

"Writing two years before the advent of the Gilets Jaunes (Yellow Vests), Guilluy convincingly shows how, once again, it's all about class struggle."—Pepe Escobar, Asia Times

"Pithy . . . While critiques from the [yellow vest] movement have remained a confused cloud of social media invective, Guilluy has served as its de facto interpreter." —James McAuley, New York Review of Books


Yale University Press, 9780300248425, 192pp.
Publication Date: January 7, 2020
About the Author
Christophe Guilluy is a French geographer and the author of several books, including La France périphérique: Comment on a sacrifié les classes populaires. He also writes occasionally for The Guardian.
or
Not Currently Available for Direct Purchase