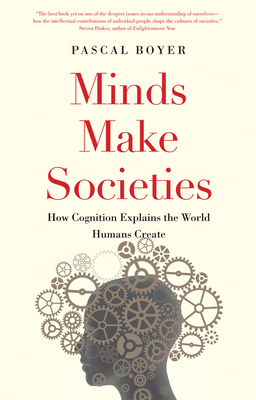 Minds Make Societies
How Cognition Explains the World Humans Create
Paperback

* Individual store prices may vary.
Other Editions of This Title:
Digital Audiobook (10/29/2018)
Hardcover (5/8/2018)
MP3 CD (11/27/2018)
Compact Disc (11/27/2018)
Description
A watershed book that masterfully integrates insights from evolutionary biology, genetics, psychology, economics, and more to explore the development and workings of human societies

"There is no good reason why human societies should not be described and explained with the same precision and success as the rest of nature." Thus argues evolutionary psychologist Pascal Boyer in this uniquely innovative book.

Integrating recent insights from evolutionary biology, genetics, psychology, economics, and other fields, Boyer offers precise models of why humans engage in social behaviors such as forming families, tribes, and nations, or creating gender roles. In fascinating, thought-provoking passages, he explores questions such as, Why is there conflict between groups? Why do people believe low-value information such as rumors? Why are there religions? What is social justice? What explains morality? Boyer provides a new picture of cultural transmission that draws on the pragmatics of human communication, the constructive nature of memory in human brains, and human motivation for group formation and cooperation.
Praise For Minds Make Societies: How Cognition Explains the World Humans Create…
"It is highly recommended . . . to researchers firmly settled within one of the many single disciplines in question. Not only will they encounter a wealth of information from the humanities, the social sciences and the natural sciences, but the book will also serve as an invitation to look beyond the horizons of their own fields."—Eveline Seghers, Evolutionary Studies in Imaginative Culture

"Elegant, dense, ambitious. . . . Anthropologists interested in challenging their view of their discipline and its relations to biology and psychology should give it a careful read."—Simon Lavoie, Anthropologica

"The most important work on a science of human culture in years."—Leda Cosmides, University of California, Santa Barbara

"Pascal Boyer has written a wide-ranging, clear, and convincing book. It is an essential reading for anyone who wants to better understand the workings of our social world."—Hugo Mercier, co-author of The Enigma of Reason

"Pascal Boyer's elegant and insightful essays on human nature and human society show the power of combining anthropology, evolutionary theory, and cognitive psychology. I particularly like his balance and even-handedness in evaluating various contending social theories."—Herbert Gintis, author of Individuality and Entanglement: The Moral and Material Bases of Social Life

"Read Pascal Boyer's cool and captivating new book Minds Make Societies. It will change forever your understanding of society and culture."—Dan Sperber, co-author of The Enigma of Reason

"Minds Make Societies is must-reading for those who are interested in what a new generation of scientists is discovering."—John Tooby, Co-Director, Center for Evolutionary Psychology, University of California, Santa Barbara


Yale University Press, 9780300248548, 376pp.
Publication Date: January 21, 2020
About the Author
Pascal Boyer is the Henry Luce Professor of Collective and Individual Memory and professor of anthropology and psychology at Washington University in St. Louis.