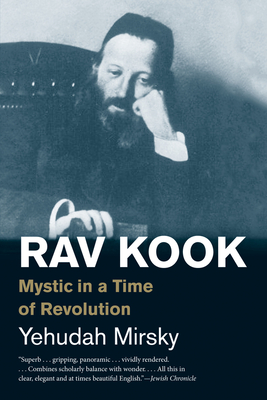 Rav Kook (Paperback)
Mystic in a Time of Revolution (Jewish Lives)
Yale University Press, 9780300248579, 288pp.
Publication Date: September 10, 2019
Other Editions of This Title:
Hardcover (2/11/2014)
* Individual store prices may vary.
Description
The life and thought of a forceful figure in Israel's religious and political life

Rav Abraham Isaac Kook (1865–1935) was one of the most influential—and controversial—rabbis of the twentieth century. A visionary writer and outstanding rabbinic leader, Kook was a philosopher, mystic, poet, jurist, communal leader, and veritable saint. The first chief rabbi of Jewish Palestine and the founding theologian of religious Zionism, he struggled to understand and shape his revolutionary times. His life and writings resonate with the defining tensions of Jewish life and thought.
A powerfully original thinker, Rav Kook combined strict traditionalism and an embrace of modernity, Orthodoxy and tolerance, piety and audacity, scholasticism and ecstasy, and passionate nationalism with profound universalism. Though little known in the English-speaking world, his life and teachings are essential to understanding current Israeli politics, contemporary Jewish spirituality, and modern Jewish thought. This biography, the first in English in more than half a century, offers a rich and insightful portrait of the man and his complex legacy. Yehudah Mirsky clears away widespread misunderstandings of Kook's ideas and provides fresh insights into his personality and worldview. Mirsky demonstrates how Kook's richly erudite, dazzlingly poetic writings convey a breathtaking vision in which "the old will become new, and the new will become holy."
About the Author
Yehudah Mirsky is Associate Professor of the Practice of Near Eastern and Judaic Studies and the Schusterman Center for Israel Studies at Brandeis University. He served in the U.S. State Department's human rights bureau, lived in Israel for the past decade, and has contributed to the New Republic, the Economist, and many other publications.
Praise For Rav Kook: Mystic in a Time of Revolution (Jewish Lives)…
"Yehudah Mirsky's remarkable new intellectual biography . . . is a must-read as an elixir to the monochromatic times in Israel we are living through now."—Aubrey L. Glazer, The Times of Israel
"Luminous, learned, and uncannily timely."—Jewish Review of Books
"Sensitive and deeply engaging . . . Yehudah Mirsky's account of the life of this exceptional religious leader is must reading for anyone wishing to better understand Rav Kook and his times."—Jewish Book World
"Yehudah Mirsky's new biography of Rabbi Avraham Yitzhak Kook focuses on a brief but enormously significant period of modern history . . . As the question of Jewish unity feels rather pressing in our own day, Kook's belief in overcoming partisanship for the common good is worth recalling. And Mirsky's excellent feat of scholarship is a great place to begin."—JWeekly
"Mirsky has a deep knowledge of the historical context of Rav Kook's life and career. He also knows the classical Jewish sources that his subject drew upon and often reformulated in his writing. And he is truly critical (as distinct from argumentative) in examining both the strengths and weaknesses of his subject. And he is an exceptionally good writer."—First Things
"Excellent. . . . Neither current Israeli politics nor contemporary Jewish spirituality can be accurately understood without addressing Rabbi Kook's legacy. The book brings to English readers the life story of Rabbi Kook, along with an explanation of his religious philosophy, in language as clear as anything I have ever read about Rabbi Kook's thought."—Canadian Jewish News
"While some books offer a good read, and others encapsulate groundbreaking scholarship, Yehudah Mirsky's Rav Kook: Mystic in a Time of Revolution manages to do both."—Jewish Week
"An intellectual biography in its truest sense: a story of the coming-to-be of a towering intellect and a turbulent soul. Rav Kook: Mystic in a Time of Revolution will aid English-language readers unfamiliar with this profoundly influential rabbi to understand one of the founding figures of contemporary Israeli society."—Marginalia Review of Books
"This volume presents a clear picture of [Kook's] thought—without forcing it into a consistency that was never there and without hiding the problematic of his ideas. Mirsky is a master of prose and is able to present complex ideas in understandable English while maintaining the flow of the narrative. . . . It certainly is now the standard biography of Rav Kook and it is essential for any serious collection dealing with modern Jewish religious thought as well as related areas."—Shaul Stampfer, Religious Studies Review
"Yehudah Mirsky's fantastic new book . . . deserves all the accolades it has received."—Marc B. Shapiro, Seforim Blog
"Luminous, learned, and uncannily timely . . . [A]rich and compelling presentation of Kook's life and thought . . . Erudite [and] excellent."—Jewish Review of Books
Won the Choice Award as runner-up for the 2016 Sami Rohr Prize for Jewish Literature, given to the best work of Jewish nonfiction published within the past two years. The Rohr and Choice prizes are coordinated and administered under the auspices of the Jewish Book Council. The Choice Award is given biennially. The author receives $25,000.
Finalist for the 2016 Sami Rohr Prize for Jewish Literature
"Moving, invaluable, and indispensable . . . As a biography, Rav Kook: Mystic in a Time of Revolution is literature in its own right; and as a historical document, it startles with revelation after revelation."—Cynthia Ozick
 
"I am overwhelmed. There is a complete-ness to this book, as if Yehudah Mirsky has been able to pour all his knowledge of Judaism into it. If anything can be called spiritual, it is the writing style of this book. It reads like a life work - not just of the subject but of the author. It reveals a beautiful soul."—Robert D. Kaplan, author of In Europe's Shadow: Two Cold Wars and a Thirty-Year Journey Through Romania and Beyond
 
"Rabbi Abraham Isaac Kook, was one of the most important Jewish religious thinkers of modern times - and indisputably the most influential in Israel - yet biographic studies of him in any language, and English studies in general, have been sorely lacking. Yehudah Mirsky's volume instantly becomes the go-to life and thought of this revolutionary, conservative, radical, traditional, messianic, reality affirming, richly dialectical thinker. The book is written with authority and clarity and is a pleasure to read. Mirsky writes with literary grace and sensitivity, nuance and complexity without losing clarity and focus. Mirsky's mastery of traditional texts enriches his deep reading of Kook's writings even as his rigorous academic method enables his scholarly lucidity, on Kook's extraordinary life and oeuvre and the complex afterlife of his teachings. All this and more are captured by Mirsky with restraint, understatement, irony and wisdom."—Rabbi Irving (Yitz) Greenberg, theologian, past professor of Jewish Studies at City College of the City University of New York; President Emeritus of CLAL: The National Jewish Center for Learning and Leadership
"Yehudah Mirsky's lively and clarifying book presents this great-souled rabbi in all his startling richness, and responsibly introduces its readers to one of the most influential and misread figures in modern Jewish thought. This is a significant contribution to the history of Jewish ideas – and also to contemporary debates about the Jewish religion and the Jewish state, because the best and the worst of Israeli Judaism may be traced back to the dissonant strains, by turns tolerant and jingoist, in Kook's profoundly original writings."—Leon Wieseltier
"This volume is the most extensive personal and intellectual biography of Rav Kook in English—and, to use Rav Kook's beloved imagery, it sheds a great deal of light. Rich in insights and studded with previously neglected or unknown historical details, the book moves through Rav Kook's life and writings in a way that both makes his ideas accessible and provides a sorely needed context for the various stages of his thought. Mirsky does not shy away from critique. Both scholars and the general public will profit immensely from this book."—David Shatz, Professor of Philosophy, Yeshiva University, editor Torah u-Madda Journal