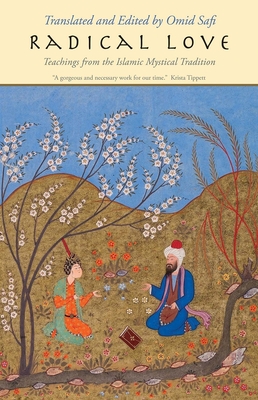 Radical Love
Teachings from the Islamic Mystical Tradition
Paperback

* Individual store prices may vary.
Other Editions of This Title:
Hardcover (5/22/2018)
Description
This stunning collection showcases the love poetry and mystical teachings at the heart of the Islamic tradition in accurate and poetic original translations

At a time when the association of Islam with violence dominates headlines, this beautiful collection offers us a chance to see a radically different face of the Islamic tradition. It traces a soaring, poetic, popular tradition that celebrates love for both humanity and the Divine as the ultimate path leading humanity back to God.

Safi brings together for the first time the passages of the Qur'an sought by the Muslim sages, the mystical sayings of the Prophet, and the teachings of the path of "Divine love." Accurately and sensitively translated by leading scholar of Islam Omid Safi, the writings of Jalal al‑Din Rumi can now be read alongside passages by Kharaqani, 'Attar, Hafez of Shiraz, Abu Sa'id‑e Abi 'l‑Khayr, and other key Muslim mystics. For the millions of readers whose lives have been touched by Rumi's poetry, here is a chance to see the Arabic and Persian traditions that produced him.
Praise For Radical Love: Teachings from the Islamic Mystical Tradition…
"Safi's Radical Love arrives on the troubled scene with a peace offering, to clear the good name of a much-maligned, widely misunderstood religion. . . . [A] fine spiritual compendium . . . Think of this book as an extended hand, holding an olive branch."—Yahia Lababidi, World Literature Today

"Refreshingly terse and remarkably meaningful."—Frederic and Mary Ann Brussat, Spirituality and Practice

"This collection of ancient Islamic teachings reveals the roots and nuances of a mystical tradition that conjoins intellectual depth, spiritual humility, and bountiful sensuality . . . A glimpse into Islamic cosmology and philosophy . . . Exquisitely poetic."—Mindful magazine

"Unique in its form and method, it is a delightful read and beautiful foray into mystical tradition."—Ilma Qureshi, Reading Religion

Chosen for a Spirituality & Practice Book Award as one of the 50 Best Spiritual Books of 2018

"The most accessible, most beautifully wrought collection of Sufi love poetry I have ever read. Omid Safi has given the world an invaluable gift."—Reza Aslan, author of God: A Human History

"Radical Love is a passionate distillation of the Islamic mystical tradition. Omid Safi has assembled a marvelous collection of texts, which will be admired by anyone drawn to Sufism or the poetry of love."—Carl Ernst, University of North Carolina at Chapel Hill

"Omid Safi has given his deep and devout attention to this work. Radical Love is a beautiful collection."—Coleman Barks, author of The Essential Rumi

"If 'one reads poetry with one's nerves', as Wallace Stevens suggests, you will find your nerves tingling as did mine when I read Omid Safi's Radical Love, an unparalleled account of human/divine engagement."—Bruce B. Lawrence, author of The Koran in English: A Biography

"Omid Safi is a master translator and a poet in his own right. With power, vision, inspiration, and staggering radiance, Safi introduces a cosmos of Islamic mystical poetry to an audience so very much in need of expanding our horizon and understanding of the rich aesthetic traditions of Islam." —David Kyuman Kim, author of Melancholic Freedom


Yale University Press, 9780300248616, 336pp.
Publication Date: September 24, 2019
About the Author
Omid Safi, professor of Islamic studies at Duke University and a columnist for On Being, is a frequent commentator on Islam. He has published numerous books, including Memories of Muhammad.