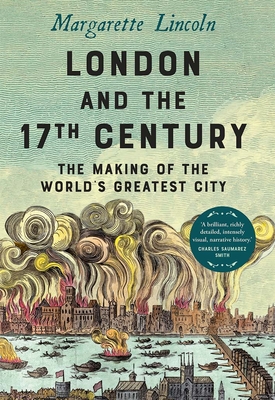 London and the Seventeenth Century
The Making of the World's Greatest City
Hardcover

* Individual store prices may vary.
Description
The first comprehensive history of seventeenth-century London, told through the lives of those who experienced it

The Gunpowder Plot, the Civil Wars, Charles I's execution, the Plague, the Great Fire, the Restoration, and then the Glorious Revolution: the seventeenth century was one of the most momentous times in the history of Britain, and Londoners took center stage.
 
In this fascinating account, Margarette Lincoln charts the impact of national events on an ever-growing citizenry with its love of pageantry, spectacle, and enterprise. Lincoln looks at how religious, political, and financial tensions were fomented by commercial ambition, expansion, and hardship. In addition to events at court and parliament, she evokes the remarkable figures of the period, including Shakespeare, Bacon, Pepys, and Newton, and draws on diaries, letters, and wills to trace the untold stories of ordinary Londoners. Through their eyes, we see how the nation emerged from a turbulent century poised to become a great maritime power with London at its heart—the greatest city of its time.
Praise For London and the Seventeenth Century: The Making of the World's Greatest City…
"A thrilling account of the capital during its most dramatic and important era"
 
"Vivid and engrossing...Lincoln is adept at spotting eloquent details that stick in the mind."—John Carey, The Sunday Times

"Lincoln...not only takes us through the maze of this magnificently chaotic city, but skilfully interweaves the political convulsions that dogged it through the 17th century."—Ben Wilson, The Times



 

"A fascinating journey round the best city in the world during the most turbulent period in its long history. Terrorism, war, plague, fire and revolution – they all have their place in an exciting story told with verve and wit."—Adrian Tinniswood, author of The Long Weekend

"Lincoln has the keenest possible eye for the character of the key players, the court as well as the populace, for the process of historical change and for London's street-life, the docks and palace ceremony, coffee houses, gardens and shops. She makes the whole look and feel of the period come alive."—Charles Saumarez Smith, author of East London  

"London in the 17th century was visited by apocalyptic events: plague, fire and war. Yet it survived all these, emerging as one of the greatest cities of the Western world. In this lively account, Lincoln shows us how the transformation was possible."—Margaret Willes, author of The Curious World of Samuel Pepys and John Evelyn
 


Yale University Press, 9780300248784, 384pp.
Publication Date: February 23, 2021
About the Author
Margarette Lincoln was visiting fellow at Goldsmiths, University of London, and Deputy Director of the National Maritime Museum. She is the author of Trading in War and British Pirates and Society, 1680–1730.