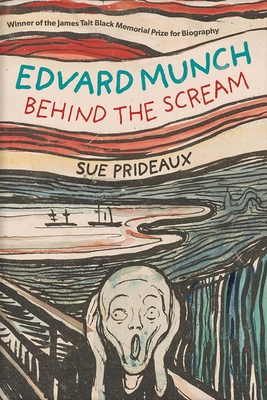 Edvard Munch (Paperback)
Behind the Scream
Yale University Press, 9780300250008, 496pp.
Publication Date: July 16, 2019
Other Editions of This Title:
Paperback (6/14/2007)
* Individual store prices may vary.
Description
Who was the man behind The Scream, the iconic painting that so acutely expresses the anguish of the twentieth century?

Edvard Munch (1863 – 1944) was twenty-eight when he embarked on a lifelong effort to paint his 'soul's diary' – and began a perverse love affair with self-destruction. This intimate and moving life of the Norwegian artist explores his turbulent early years, his time as a recluse, and his intense efforts to paint not what he saw, but what he experienced.
 
About the Author
In addition to her prize-winning biography of Edvard Munch, Sue Prideaux is the author of I Am Dynamite! A Life of Friedrich Nietzsche, longlisted for the Rathbones Folio Prize 2019, and Strindberg: A Life, shortlisted for the Samuel Johnson prize for nonfiction and winner of the Duff Cooper prize.
Praise For Edvard Munch: Behind the Scream…
"...excellent...highly detailed...fascinating..." - Martin Bailey, The Art Newspaper
'... it is packed with information and event. Few biographies of artists can be described as gripping. This often is.'---Martin Gayford, The Sunday Telegraph
"... a magisterial portrait of a deeply troubled man. It is both humerous and tragic in its account of Munch's abortive relationships with women, his dependence on drink, and his struggle for success and recognition.'---Frances Spalding, The Sunday Times
"[An] assured and vivid biography."—Peter Schjeldahl, New Yorker
"Behind the Scream offers new insights and interpretations of Norway's enigmatic painter. Unlimited access to the artist's papers makes for a most interesting read."—Art Times


"As one reads Prideaux's meticulously detailed yet always companionable and often startling account of Munch's dramatically difficult life and extraordinarily intense psyche, one marvels that he lived so long and achieved so much. . . . Prideaux makes Munch's voice a key aspect of her narrative. . . . As Prideaux vividly chronicles Munch's tumultuous life in turbulent times in Norway, Paris, and Berlin, the reader's appreciation of this bold spirit who risked all to descend into the realm of archetypes and create art depicting the 'secret life of the soul' grows exponentially."—Booklist (starred review)


A riveting biography. . . . provides non-specialist readers with lucid analyses of Munch's very varied, often unsettling paintings.


"[Prideaux's] treatment is very effective and her writing, cohesive, clear, and often compelling. Recommended."—Library Journal


"Prideaux captures the gloom of the Nordic artist's life and work. . . . A gripping read."


[An] excellent new biography . . . Provides some deep background about the artist's turbulent life and tormented psyche.

"...[Prideaux's] biography [has] a kind of sympathetic authority... [It] fills out the man behind the paintings." - Patricia Railing, The Art Book, February 2006
"An impeccable reference suitable for both classroom and library alike. . . . Prideaux does a masterful job at revealing the core of the man at the heart of the artist. . . . In addition to the wealth of information she presents, Prideaux augments her text with stunning illustrations that help to carry this book to another level. Recommended as a supporting class text in Art History courses that go beyond superficial study of the period, bringing students unto the most dynamic artists of each period. Would further prove indispensable to University-level libraries as a general reference text."—The Electric Review



"Art historian Sue Prideaux has chronicled the turbulent life of the genius behind these paintings in a new and absorbing biography. Ms. Prideaux gives us rare and intimate insights. . . . Her connections and unrelenting research netted the biographer unprecedented access to thousands of Munch's diaries, letters and other papers. . . . Ms. Prideaux sorts out Munch's works and his difficult life with a scholar's eye for history and a novelist's eye for anecdotes."—Gwen Gibson, Washington Times


"Sue Prideaux's fascinating, well-illustrated biography of Edvard Munch reveals clearly and calmly the torments and accomplishments which this Norwegian artist experienced."—Carole J. Lambert, Southern Humanities Review
Winner of the James Tait Black Memorial Prize for Biography in 2005, awarded by the University of Edinburgh.
Selected for Association of American University Presses (AAUP) Books for Public and Secondary School Libraries, 2006
"Such was the nature of Edvard Munch's life that this book makes a gripping read. Prideaux provides a convincing sense of the psychological experiences of Munch and also the flavor of the times that he occupied."—John Milner, University of Newcastle
"Munch emerges as a real person, rather like you and me."—Karl Ove Knausgård
"Munch emerges as a real person, rather like you and me."—Karl Ove Knausgård
— Karl Ove Knausgård