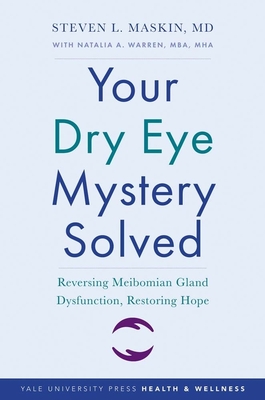 Your Dry Eye Mystery Solved
Reversing Meibomian Gland Dysfunction, Restoring Hope (Yale University Press Health & Wellness)
Paperback

* Individual store prices may vary.
Description
A top expert reveals his insights into Meibomian gland dysfunction, a ubiquitous, misunderstood disease that leads to Dry Eye syndrome

In Reversing Dry Eye Syndrome (Yale University Press 2007), ophthalmologist Steven Maskin introduced readers to Dry Eye syndrome, explaining what the syndrome is, why it occurs, and how it can best be managed and treated. In Your Dry Eye Mystery Solved, he reveals his recent discoveries and treatments for Meibomian gland dysfunction (MGD), an underlying disease that leads to Dry Eye syndrome and involves blockage of the oil-producing tear glands within the eyelids. Not only are these glands key to clear vision and comfortable eyes, but when disrupted they can cause severe pain and a host of related symptoms.
Praise For Your Dry Eye Mystery Solved: Reversing Meibomian Gland Dysfunction, Restoring Hope (Yale University Press Health & Wellness)…
"Your Dry Eye Mystery Solved is a thorough update on existing Dry Eye diagnostic tests and therapeutic measures, providing hope and empowerment to those Dry Eye sufferers who have been left disappointed, frustrated, and dissatisfied with their care."—Frank Bowden III, MD, FACS

"This is a one of a kind literary product. I expect it to be the 'bible' for the Dry Eye world – patients, ophthalmologic students and instructors, as well as researchers. Without finding Dr. Maskin, I would have been unlikely to survive this condition."—David P. Maconi, Esq., Dry Eye syndrome sufferer

"Dr. Steven Maskin's pioneering work in eye health has dramatically changed my life. Your Dry Eye Mystery Solved will open that same door of hope and awareness for other Dry Eye sufferers as well."—D. L. Koontz, author of Fatal Memories and other works of fiction, and Dry Eye syndrome sufferer

"As the father of Meibomian Gland Probing, Dr. Maskin adds this landmark book to his legacy as a world leader in Dry Eye Disease research for the benefit of all patients with DED and the doctors/surgeons who treat them."—Sandra Lora Cremers, MD, FACS

"Dr. Maskin writes another masterful book on Dry Eye Disease, emphasizing the critical role of diagnosing and correctly treating meibomian gland disease (MGD). It is an incredibly practical guide for patients and even experienced clinicians to differentiate the signs and symptoms of dry eye co-morbidities that often masquerade as MGD."—Harvey A. Fishman, MD, PhD
Yale University Press, 9780300250336, 420pp.
Publication Date: June 7, 2022
About the Author
Steven L. Maskin, M.D. is director of the Dry Eye and Cornea Treatment Center, Tampa, FL, and founder of MGDinnovations (mgdi.com). Natalia A. Warren, M.B.A., M.H.A, is co-founder of Not A Dry Eye Foundation (notadryeye.org).