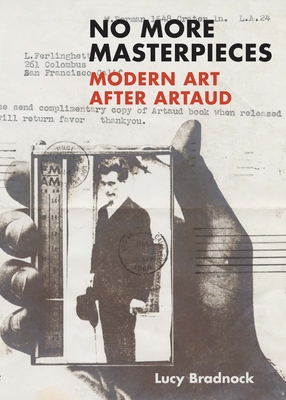 No More Masterpieces
Modern Art After Artaud
Hardcover

* Individual store prices may vary.
Description
This groundbreaking account of postwar American art traces the profound influence of Antonin Artaud

Proposing an original reassessment of art from the 1950s to the 1970s, No More Masterpieces reveals how artistic practice in postwar America was profoundly shaped by the work of the rebellious French poet and dramatist Antonin Artaud (1896–1948). A generation of artists mobilized Artaud's countercultural ideas to imagine new forms of representation and to redefine the relationship between artist and audience. The book shows how Artaud's radical writings inspired the experimental theatrical work of John Cage, Rachel Rosenthal, and Allan Kaprow; the attack on artistic and social conventions launched by assemblage artists Wallace Berman and Bruce Conner; and the feminist work of Carolee Schneemann and Nancy Spero. Lucy Bradnock traces the dissemination of Artaud's writings in America and demonstrates how his interest in political and cultural disorder, the dangers of authority, and the unreliability of representation found fertile ground in the context of the Cold War, disillusionment with the ideals of Abstract Expressionism, and the early years of identity politics.
Praise For No More Masterpieces: Modern Art After Artaud…
"No More Masterpieces is impeccably researched, well written, and closely argued in the details. Bradnock forges new territory on Artaud's direct influence on American art."—Jenni Sorkin, University of California, Santa Barbara


Yale University Press, 9780300251036, 240pp.
Publication Date: March 30, 2021
About the Author
Lucy Bradnock is associate professor of art history at the University of Nottingham.