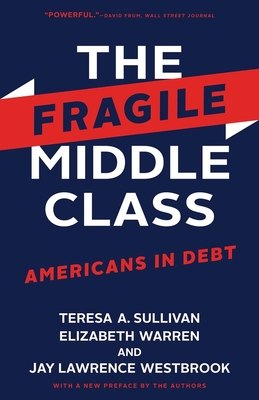 The Fragile Middle Class
Americans in Debt
Paperback

* Individual store prices may vary.
Other Editions of This Title:
Compact Disc (2/18/2020)
Description
Why have so many middle-class Americans encountered so much financial trouble?

In this classic analysis of hard-pressed families, the authors discover that financial stability for many middle-class Americans is all too fragile. The authors consider the changing cultural and economic factors that threaten financial security and what they imply for the future vitality of the middle class. A new preface examines the persistent and new threats that have emerged since the original publication.

"[A] fascinating, alarming study. . . . [This] chilling diagnosis of middle-class affliction demonstrates that we all may be only a job loss, medical problem or credit card indulgence away from the downward spiral leading to bankruptcy."—Publishers Weekly

"A well-designed and carefully executed study."—Andrew Greeley, University of Chicago

"The Fragile Middle Class, a well-written work of social science that is about as gripping as the genre gets, forces us to reevaluate notions about consumerism."—American Prospect
Praise For The Fragile Middle Class: Americans in Debt…
"The authors of this well designed and carefully executed study remind us that there are winners and losers in the American free enterprise system. Many of the American middle class are losers because of loss of job, health, divorce, and the overarching temptation of easy credit. The banks make money from those who pay their bills and can absorb the losses from those who cannot. Bankruptcy is part of the American 'safety net' which is great for everyone except those who must suffer its humiliation. Perhaps the temptations of easy credit are a problem to which moral and religious leaders ought to attend."—Andrew Greeley, University of Chicago



"This pathbreaking book by leading scholars of bankruptcy demonstrates the seamy side of the widely acclaimed middle class prosperity. For many Americans a fragile prosperity is cobbled together with dual jobs, multiple credit cards, and excessive borrowing. These scholars show that, once overextended, a lost job or high medical bills send many a middle class family into the growing abyss of bankruptcy and impoverishment."—Joe Feagin, Graduate Research Professor, University of Florida




"The Fragile Middle Class answers the perplexing question of why we have experienced dramatic increases in bankruptcy filing in the midst of unprecedented prosperity. With poignant real-life stories as well as hard data, the authors demonstrate how bankruptcy is, in large part, a middle class phenomenon. This is an important book for anyone interested in economic or social policy."—Judge Joyce Bihary, United States Bankruptcy Court, Atlanta



"The authors paint a remarkable portrait of Americans in debt and force us to discard our stereotypes of debtors. They further our understanding of both individuals in economic distress and the economic system in which we all struggle to manage."—Karen Gross, New York Law School


"American politics too often is based on atrocity stories and colorful but atypical anecdotes. The Fragile Middle Class brings facts and common sense to debates over bankruptcy reform. Special interests won't be pleased, but the rest of us should applaud Sullivan, Warren and Westbrook."—Stewart Macaulay, Malcolm Pitman Sharp Hilldale Professor and Theodore W. Brazeau Bascom Professor of Law, University of Wisconsin-Madison



Yale University Press, 9780300251890, 408pp.
Publication Date: February 18, 2020
About the Author
Teresa A. Sullivan is President Emerita and University Professor of the University of Virginia. Formerly Leo Gottlieb Professor of Law at Harvard Law School, Elizabeth Warrren is now the senior United States Senator from Massachusetts. Jay Lawrence Westbrook is Benno C. Schmidt Chair of Business Law at the University of Texas School of Law.
 
or
Not Currently Available for Direct Purchase