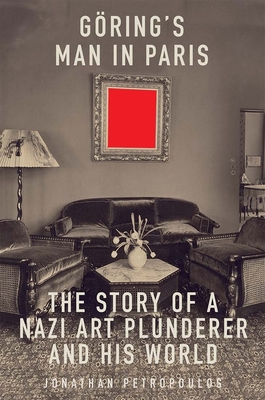 Goering's Man in Paris
The Story of a Nazi Art Plunderer and His World
Hardcover

* Individual store prices may vary.
Description
A charged biography of a notorious Nazi art plunderer and his career in the postwar art world
 
"A well-rounded portrait of a complex figure. . . . Engrossing."—Publishers Weekly

"With meticulous precision Jonathan uncovers the inner workings of the Nazi looting machine, exposing a network that lasted well into the 1960s. Indeed Göring's Man still casts a long shadow."—Simon Goodman, author of The Orpheus Clock
 
Bruno Lohse (1911–2007) was one of the most notorious art plunderers in history. Appointed by Hermann Göring to Hitler's art looting agency in Paris, he went on to help supervise the systematic theft and distribution of more than thirty thousand artworks, taken largely from French Jews, and to assist Göring in amassing an enormous private art collection. By the 1950s Lohse was officially denazified but was back in the art dealing world, offering masterpieces of dubious origin to American museums. After his death, dozens of paintings by Renoir, Monet, and Pissarro, among others, were found in his Zurich bank vault and adorning the walls of his Munich home. Jonathan Petropoulos spent nearly a decade interviewing Lohse and continues to serve as an expert witness for Holocaust restitution cases. Here he tells the story of Lohse's life, offering a critical examination of the postwar art world.
Praise For Goering's Man in Paris: The Story of a Nazi Art Plunderer and His World…
"A nuanced and comprehensive biography . . . a well-rounded portrait of a complex figure . . . Readers of art history and WWII biographies will appreciate this engrossing deep dive into one of the world's most prolific art looters."—Publishers Weekly

"A manuscript of prime and serious scholarship."—Jean-Marc Dreyfus, University of Manchester

"Even in normal times, the art market can appear shadowy, even shady, and the early 1940s were not normal times.  This book brings readers into the labyrinthine network of German, French, and Swiss art dealers who not only fenced goods stolen from museums and Jewish collectors in Nazi-occupied Europe, but also concealed and continued to trade in some of the loot after 1945.  The result is a fascinating exploration of a netherworld where luxury and larceny met, and the perils of getting close to it."—Peter Hayes, author of Why? Explaining the Holocaust

"Jonathan Petropoulos's meticulously researched account of one of the great (and continuing) art thefts in history reads like an Agatha Christie mystery. The degree to which the world of art collectors, gallery owners, curators, and other supposedly cultured people participated in this crime is stupefying. A compelling and maddening page turner."—Deborah Lipstadt, author of Antisemitism: Here and Now

"Göring's Man in Paris demonstrates Petropoulos's brilliant, indefatigable research and scholarship, compelling story-telling, and illumination of the ghastly work of Dr. Bruno Lohse. The book is vitally important for shedding a light on the network of former Nazi art dealers who continued to traffic with each other in their Nazi-looted art for decades."—Stuart Eizenstat, Former senior official in the Carter and Clinton administration and chief negotiator for the Washington principles on Nazi-confiscated art

"Deeply researched, ethically informed, and enriched with keen eyewitness observations, Jonathan Petropoulos's new book exposes the extent of Bruno Lohse's wartime activities and details his efforts after 1945 to profit from his ill-gotten gains by reintegrating himself into the rarefied world of art dealers and collectors."—Gavriel Rosenfeld, author of The Fourth Reich: The Specter of Nazism Since World War II
 


Yale University Press, 9780300251920, 456pp.
Publication Date: January 26, 2021
About the Author
Jonathan Petropoulos is the John V. Croul Professor of European History at Claremont McKenna College. He is a Life Member of Clare Hall, University of Cambridge, and a Fellow at the Royal Historical Society.