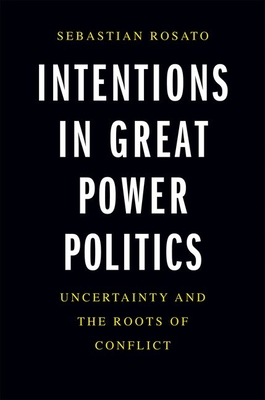 Intentions in Great Power Politics
Uncertainty and the Roots of Conflict
Hardcover

* Individual store prices may vary.
Description
Why the future of great power politics is likely to resemble its dismal past

Can great powers be confident that their peers have benign intentions? States that trust each other can live at peace; those that mistrust each other are doomed to compete for arms and allies and may even go to war. Sebastian Rosato explains that states routinely lack the kind of information they need to be convinced that their rivals mean them no harm. Even in cases that supposedly involved mutual trust—Germany and Russia in the Bismarck era; Britain and the United States during the great rapprochement; France and Germany, and Japan and the United States in the early interwar period; and the Soviet Union and United States at the end of the Cold War—the protagonists mistrusted each other and struggled for advantage. Rosato argues that the ramifications of his argument for U.S.–China relations are profound: the future of great power politics is likely to resemble its dismal past.
Praise For Intentions in Great Power Politics: Uncertainty and the Roots of Conflict…
"This book will be the definitive treatment of the role intentions play in relations among major powers.  As the rise of China heralds the next era of international rivalry, Intentions in Great Power Politics provides a sobering but essential guide to its perils."—Stephen Walt, Harvard University
 
"Rosato has produced a pathbreaking work on one of the most important theoretical issues in international politics: whether states can know each other's intentions. It is by far the best study on that subject. Future scholars who examine that issue—and there will be many—will have to engage it. In short, Intentions in Great Power Politics is a seminal book."—John Mearsheimer, author of The Great Delusion: Liberal Dreams and International Realities

 
"Anyone who thinks that China and the United States can learn to trust each other and head off their brewing competition needs to read this book. Rosato demolishes such pipe dreams with meticulous logic and evidence, showing why – in the real world – mistrust is deep and ubiquitous."—Keir Lieber, Georgetown University
 
"Whether the great powers can cooperate or are doomed to compete—perhaps the most important question in world politics—depends on their intentions. In this important book, Rosato argues forcefully that the intentions of great powers are inscrutable and that, therefore, competition is inevitable. Elegantly argued, Intentions in Great Power Politics will be read and debated for decades to come."—Nuno Monteiro, Yale University

Yale University Press, 9780300253023, 376pp.
Publication Date: April 20, 2021
About the Author
Sebastian Rosato is associate professor of political science and associate director of the International Security Center at the University of Notre Dame, where he is also a fellow of the Kroc Institute for International Peace Studies, the Liu Institute for Asia and Asian Studies, and the Nanovic Institute for European Studies.