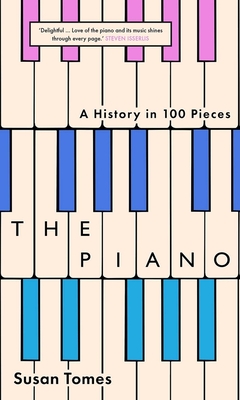 The Piano
A History in 100 Pieces
Hardcover

* Individual store prices may vary.
Description
A fascinating history of the piano explored through 100 pieces chosen by one of the UK's most renowned concert pianists

An astonishingly versatile instrument, the piano allows just two hands to play music of great complexity and subtlety. For more than two hundred years, it has brought solo and collaborative music into homes and concert halls and has inspired composers in every musical genre—from classical to jazz and light music.
 
Charting the development of the piano from the late eighteenth century to the present day, pianist and writer Susan Tomes takes the reader with her on a personal journey through 100 pieces including solo works, chamber music, concertos, and jazz. Her choices include composers such as Bach, Mozart, Beethoven, Robert Schumann, Tchaikovsky, Debussy, Gershwin, and Philip Glass. Looking at this history from a modern performer's perspective, she acknowledges neglected women composers and players including Fanny Mendelssohn, Maria Szymanowska, Clara Schumann, and Amy Beach.
Praise For The Piano: A History in 100 Pieces…
"A superb masterpiece, packed with detail, yet eloquently presenting important moments in the history (and pre-history) of piano music and how it has inspired us all - composers, musicians, and listeners - for more than 200 years."—John Gilhooly, Director of Wigmore Hall
"Susan Tomes writes as elegantly and lucidly as she plays the piano. Here she offers the perfect guide to the world of musical riches that the instrument at its best can be. This is a treasurable book for committed pianophiles and newcomers alike."—Jessica Duchen, novelist and music writer
"This is a delightful and valuable book. Susan Tomes presents a generous history of piano literature with wonderful lucidity, understanding and conviction. Love of the piano and its music shines through every page - professional musicians and music-loving enthusiasts alike will be captivated."—Steven Isserlis, cellist
"Susan Tomes explains why this beloved instrument has been at the heart of our musical lives, on stage and at home, from its invention up to the present day. Her love for the instrument, and the music which its composer-lovers have written for it over centuries, is infectious and instructive. A book to keep near your piano."—Stephen Hough, pianist
Yale University Press, 9780300253924, 400pp.
Publication Date: August 31, 2021
About the Author
Susan Tomes is a concert pianist and writer. Renowned both as a soloist and as the pianist of Domus and the Florestan Trio, she is the author of numerous works including Beyond the Notes, Sleeping in Temples and Speaking the Piano.