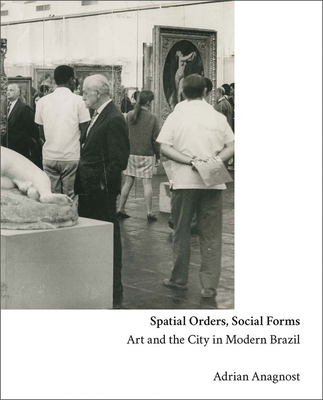 Spatial Orders, Social Forms
Art and the City in Modern Brazil
Hardcover

* Individual store prices may vary.
Description
A fascinating look at modernist urban planning and spatial theories in Brazilian 20th-century art and architecture

Exploring the intersections among art, architecture, and urbanism in Brazil from the 1920s through the 1960s, Adrian Anagnost shows how modernity was manifested in locally specific spatial forms linked to Brazil's colonial and imperial past. Discussing the ways artists and architects understood urban planning as a tool to reorganize the world, control human action, and remedy social problems, Anagnost offers a nuanced account of the seeming conflict between modernist aesthetics and a predominately poor and historically disenfranchised urban public, with particular attention to regionalist forms of urban development. Organized as a series of case studies of projects such as Flávio de Carvalho's performative urbanism, the construction of the Ministry of Education and Public Health building, Lina Bo and Pietro Maria Bardi's efforts to modernize Brazilian museums, and Hélio Oiticica's interstitial works, this study is full of groundbreaking insights into the ways that modernist theories of urbanism shaped the art and architecture of 20th-century Brazil.
Praise For Spatial Orders, Social Forms: Art and the City in Modern Brazil…
"Not only very original but also a very necessary, long overdue, and refreshing corrective of ingrained and perceived ideas about Brazilian modernism."—Anna Indych-López, The Graduate Center & City College (CUNY)

"Spatial Orders, Social Forms is a much-needed account and reconsideration of the many important works, ideas, and social intentions of twentieth century Brazilian art, architecture, and space."—Luis E. Carranza, author of Modern Architecture in Latin America: Art, Technology, and Utopia


Yale University Press, 9780300254013, 248pp.
Publication Date: May 31, 2022
About the Author
Adrian Anagnost is Jessie Poesch Assistant Professor in the Newcomb Art Department at Tulane University.