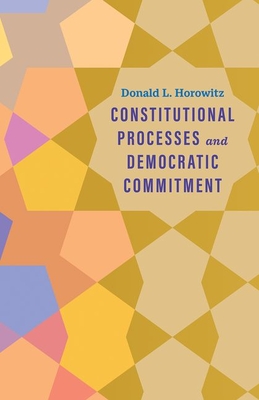 Constitutional Processes and Democratic Commitment (Castle Lecture Series)
Hardcover

* Individual store prices may vary.
Description
From one of our leading scholars of comparative constitutionalism, advice for everyone involved in the surprisingly common practice of constitution-writing

Enhancing prospects for democracy is an important objective in the process of creating a new constitution. Donald L. Horowitz argues that constitutional processes ought to be geared to securing commitment to democracy by those who participate in them. Using evidence from numerous constitutional processes, he makes a strong case for a process intended to increase the likelihood of a democratic outcome. He also assesses tradeoffs among various process attributes and identifies some that might impede democratic outcomes. This book provides a fresh perspective on constitutional processes that will interest students and scholars. It also offers sound advice for everyone involved in the surprisingly common practice of constitution‑writing.
Praise For Constitutional Processes and Democratic Commitment (Castle Lecture Series)…
"When Don Horowitz writes something, you shoehorn it immediately into the syllabus of whatever course you're teaching.  You know you will learn something about different corners of the world, you know it will be authoritative, and you know you will be intellectually enriched.  Best of all, you know that your students will not be disappointed.  This book will be a touchstone for all of us curious about the making of constitutions."—Zachary Elkins, University of Texas at Austin
 

"Donald Horowitz has established himself as the world's leading authority on constitution-making and peace-making in deeply divided societies. In this book he goes beyond his earlier work to propose a compelling framework for the study of constitutional processes more generally. He shows himself to be informed as well as wise. If constitution-makers are equally wise, they can benefit greatly from this book."—Jon Elster, Columbia University

"A masterly analysis of the many obstacles to democratic constitutional reform in severely divided societies and how those obstacles can be overcome by political action guided by a carefully constructed comparative theory. Horowitz's lessons may be applied more generally to societies whose constitutional orders are under threat from anti-democratic forces, including our own."—R. William Liddle, Ohio State University
 


Yale University Press, 9780300254365, 288pp.
Publication Date: August 3, 2021
About the Author
Donald L. Horowitz is the James B. Duke Professor of Law and Political Science Emeritus at Duke University. Among his previous books are Constitutional Change and Democracy in Indonesia and Ethnic Groups in Conflict.