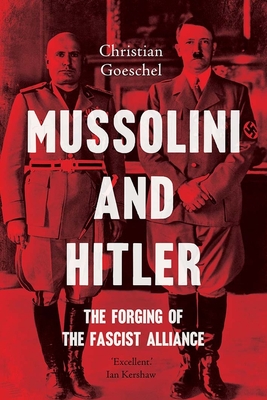 Mussolini and Hitler
The Forging of the Fascist Alliance
Paperback

* Individual store prices may vary.
Other Editions of This Title:
Digital Audiobook (9/24/2018)
Compact Disc (9/25/2018)
MP3 CD (9/25/2018)
Hardcover (9/25/2018)
Description
A fresh treatment of Fascist Italy and Nazi Germany, revealing the close ties between Mussolini and Hitler and their regimes

From 1934 until 1944 Mussolini met Hitler numerous times, and the two developed a relationship that deeply affected both countries. While Germany is generally regarded as the senior power, Christian Goeschel demonstrates just how much history has underrepresented Mussolini's influence on his German ally.

In this highly readable book, Goeschel, a scholar of twentieth-century Germany and Italy, revisits all of Mussolini and Hitler's key meetings and asks how these meetings constructed a powerful image of a strong Fascist-Nazi relationship that still resonates with the general public. His portrait of Mussolini draws on sources ranging beyond political history to reveal a leader who, at times, shaped Hitler's decisions and was not the gullible buffoon he's often portrayed as. The first comprehensive study of the Mussolini-Hitler relationship, this book is a must-read for scholars and anyone interested in the history of European fascism, World War II, or political leadership.
Praise For Mussolini and Hitler: The Forging of the Fascist Alliance…
"Goeschel, contends, convincingly, that the partnership [between Mussolini and Hitler], despite its many flaws, was 'decisive in destroying the inter-war Wilsonian order.'"—Joseph C. Goulden, Washington Times

"A welcome addition to the World War II library. Christian Goeschel restores the Duce to the wartime narrative . . . [and] concludes with an eye to historical memory. After the war, both sides blamed the other for defeat: German generals railing on in their memoirs about Italian military incompetence, the Italians turning themselves into passive bystanders and helpless victims of German violence. . . . Perhaps this very fine book will help them to remember."—Robert M. Citino, World War II Magazine
 

"Goeschel throws fresh light on the convoluted relationship of the two dictators. . . . In the end, Goeschel, demonstrates that there was a real friendship between the two, albeit fraught with jealousy, misunderstanding, and personal ambitions, which helped shape the war. Mussolini and Hitler is a valuable read for anyone interested in the leadership of the Axis powers."—A. A. Nofi, Strategy Page

"Goeschel's fine monograph adds significantly to our understanding of the fatal attraction that paved the way to World War II. . . . His methodology enriches our understanding of the diplomacy and pageantry of the 1930s. This work is essential reading for those trying to comprehend the sordid world that gave birth to World War II."—G. Bruce Strang, Journal of Interdisciplinary History

"Through meticulous dissection of the novel choreography and symbolism of modern dictators, with special focus on the constructed imagery of the meetings between Mussolini and Hitler, Christian Goeschel's excellent book is able to cast more light than any previous historian has done on the cynical self-serving character of their increasingly catastrophic 'special relationship'."—Ian Kershaw

"Fascinating, deeply researched and well-written. This promises to be the definitive study of the Mussolini-Hitler relationship."—Lucy Riall, author of Garibaldi


Yale University Press, 9780300254730, 400pp.
Publication Date: August 25, 2020
About the Author
Christian Goeschel is senior lecturer in modern European history at the University of Manchester, and he has held a visiting position at the European University Institute in Florence. His publications include Suicide in Nazi Germany. He lives in Manchester, UK.
or
Not Currently Available for Direct Purchase