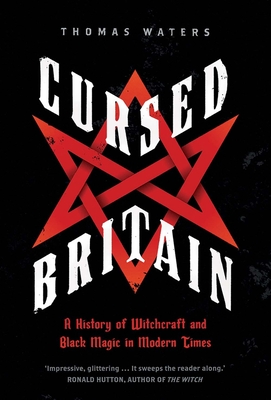 Cursed Britain
A History of Witchcraft and Black Magic in Modern Times
Paperback

* Individual store prices may vary.
Other Editions of This Title:
Hardcover (10/7/2019)
Description
The definitive history of how witchcraft and black magic have survived, through the modern era and into the present day

Cursed Britain unveils the enduring power of witchcraft, curses and black magic in modern times. Few topics are so secretive or controversial. Yet, whether in the 1800s or the early 2000s, when disasters struck or personal misfortunes mounted, many Britons found themselves believing in things they had previously dismissed – dark supernatural forces.

Historian Thomas Waters here explores the lives of cursed or bewitched people, along with the witches and witch-busters who helped and harmed them. Waters takes us on a fascinating journey from Scottish islands to the folklore-rich West Country, from the immense territories of the British Empire to metropolitan London. We learn why magic caters to deep-seated human needs but see how it can also be abused, and discover how witchcraft survives by evolving and changing. Along the way, we examine an array of remarkable beliefs and rituals, from traditional folk magic to diverse spiritualities originating in Africa and Asia.

This is a tale of cynical quacks and sincere magical healers, depressed people and furious vigilantes, innocent victims and rogues who claimed to possess evil abilities. Their spellbinding stories raise important questions about the state's role in regulating radical spiritualities, the fragility of secularism and the true nature of magic.

 
Praise For Cursed Britain: A History of Witchcraft and Black Magic in Modern Times…
"Cursed Britain holds considerable value for an academic as well as a general readership. . . .this book deserves serious attention."—Jonathan Barry, Journal of Interdisciplinary History

"A timely account of the ebb and flow of belief in the black arts in modern times. It's fascinating, well-researched and utterly compelling."—Michelle Paver, author of Wakenhyrst

"This is one of those pioneering studies which immediately establishes a mastery of its field. It is broad, adventurous, subtle, painstaking and in places perhaps controversial: at once a glittering debut and a monument of scholarship."—Ronald Hutton, author of The Witch

"Built around numerous intriguing case studies, Cursed Britain charts the continued fear of witchcraft and harmful magic in Britain and beyond over the last two centuries. Authoritative and engaging, Waters' book explores and explains why we should seek to understand the magical beliefs of our recent ancestors, and also requires us to reflect on the continued belief in malign forces."—Owen Davies, author of A Supernatural War

"An important and timely investigation into how malevolent magic and counter magic has survived, adapted, declined, and revived in the modern age. This is also a very human history of fear, power, influence and imagination. Fascinating."— Karl Bell, author of The Magical Imagination


Yale University Press, 9780300254778, 360pp.
Publication Date: September 29, 2020
About the Author
Thomas Waters is lecturer in history at Imperial College London and a specialist in the modern history of witchcraft and magic.
or
Not Currently Available for Direct Purchase