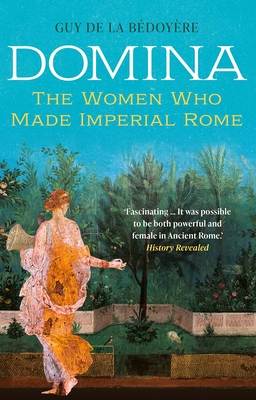 Domina
The Women Who Made Imperial Rome
Paperback

* Individual store prices may vary.
Other Editions of This Title:
Hardcover (10/30/2018)
MP3 CD (12/18/2018)
Compact Disc (12/18/2018)
Description
A captivating popular history that shines a light on the notorious Julio-Claudian women who forged an empire​

Augustus, Tiberius, Caligula, Claudius, and Nero—these are the names history associates with the early Roman Empire. Yet, not a single one of these emperors was the blood son of his predecessor. In this captivating history, a prominent scholar of the era documents the Julio-Claudian women whose bloodline, ambition, and ruthlessness made it possible for the emperors' line to continue.
 
Eminent scholar Guy de la Bédoyère, author of Praetorian, asserts that the women behind the scenes—including Livia, Octavia, and the elder and younger Agrippina—were the true backbone of the dynasty. De la Bédoyère draws on the accounts of ancient Roman historians to revisit a familiar time from a completely fresh vantage point. Anyone who enjoys I, Claudius will be fascinated by this study of dynastic power and gender interplay in ancient Rome.
Praise For Domina: The Women Who Made Imperial Rome…
"An illuminating and highly readable narrative about the role of women at the centre of imperial Rome – fascinating and important."—Lesley Adkins, author of Handbook to Life In Ancient Rome

"In contrast to most histories of Rome which focus almost entirely on the exploits of its male emperors, Domina examines the women who partnered them in power, from the perfect Roman wives Livia and Octavia to Cleopatra, Agrippina the Younger and the trio of Severan Julias who all stepped far beyond tradition to dominate the Roman world."—Joann Fletcher, The Story of Egypt

"Enjoyable, fluently written and well-balanced in approach. De la Bédoyère leaves no stone unturned by way of evidence, which he carefully evaluates with regard to its context and reliability."—Pat Southern, author of The Roman Army

"A vital contribution to our knowledge and understanding of the lives of imperial women. Domina presents a nuanced assessment of the various forms of power and agency which women could wield and the ways in which Roman historians drew on gender ideologies both to praise and censure them. Fascinating."—Katherine J. Lewis, author of Kingship and Masculinity in Late Medieval England


Yale University Press, 9780300254846, 416pp.
Publication Date: September 14, 2021
About the Author
Guy de la Bédoyère is a fellow of the Society of Antiquaries and well known for his many books on the Roman world, including The Real Lives of Roman Britain and Praetorian.