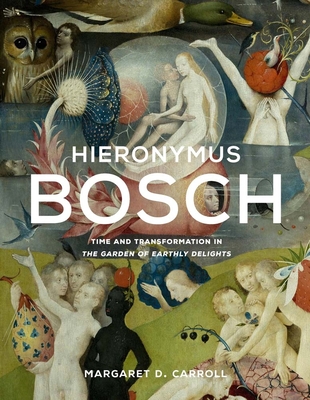 Hieronymus Bosch
Time and Transformation in The Garden of Earthly Delights
Hardcover

* Individual store prices may vary.
Description
A new and exciting interpretation of Bosch's masterpiece, repositioning the triptych as a history of humanity and the natural world

Hieronymus Bosch's (c. 1450–1516) Garden of Earthly Delights has elicited a sense of wonder for centuries. Over ten feet long and seven feet tall, it demands that we step back to take it in, while its surface, intricately covered with fantastical creatures in dazzling detail, draws us closer. In this highly original reassessment, Margaret D. Carroll reads the Garden as a speculation about the origin of the cosmos, the life-history of earth, and the transformation of humankind from the first age of world history to the last. Upending traditional interpretations of the painting as a moralizing depiction of God's wrath, human sinfulness, and demonic agency, Carroll argues that it represents Bosch's exploration of progressive changes in the human condition and the natural world. Extensively researched and beautifully illustrated, this groundbreaking secular analysis draws on new findings about Bosch's idiosyncratic painting technique, his curiosity about natural history, his connections to the Burgundian court, and his experience of contemporary politics. The book offers fresh insights into the artist and his most beloved and elusive painting.  
Praise For Hieronymus Bosch: Time and Transformation in The Garden of Earthly Delights…
"Carroll offers a lively read, enhanced by her close attention to visual details and the copious number of figures detailing the triptych."—Penny Jolly, author of Picturing the "Pregnant" Magdalene in Northern Art, 1430-1550: Addressing and Undressing the Sinner-Saint

"A welcome intervention into the field of Bosch studies. Carroll proposes a novel and quite convincing rethinking of the artist."—Elizabeth Honig, University of Maryland, College Park


Yale University Press, 9780300255324, 192pp.
Publication Date: August 9, 2022
About the Author
Margaret D. Carroll is professor emerita of art at Wellesley College. She is the author of Painting and Politics in Northern Europe: Van Eyck, Bruegel, Rubens, and Their Contemporaries (winner, International Eugène Baie Award).