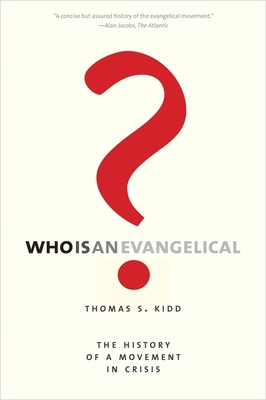 Who Is an Evangelical?
The History of a Movement in Crisis
Paperback

* Individual store prices may vary.
Other Editions of This Title:
Hardcover (9/24/2019)
Description
A leading historian of evangelicalism offers a concise history of evangelicals and how they became who they are today

Evangelicalism is arguably America's most controversial religious movement. Nonevangelical people who follow the news may have a variety of impressions about what "evangelical" means. But one certain association they make with evangelicals is white Republicans. Many may recall that 81 percent of self‑described white evangelicals voted for Donald Trump, and they may well wonder at the seeming hypocrisy of doing so.
 
In this illuminating book, Thomas Kidd draws on his expertise in American religious history to retrace the arc of this spiritual movement, illustrating just how historically peculiar that political and ethnic definition (white Republican) of evangelicals is. He examines distortions in the public understanding of evangelicals, and shows how a group of "Republican insider evangelicals" aided the politicization of the movement. This book will be a must‑read for those trying to better understand the shifting religious and political landscape of America today.
Praise For Who Is an Evangelical?: The History of a Movement in Crisis…
"How 81 percent of evangelicals could have voted for Donald Trump, given his flouting of their 'traditional values,' has been a question for many Americans since 2016. . . . Kidd, a professor of history at Baylor University, finds an explanation in the history of the relationship between evangelicals and political power."—Frances Fitzgerald, New York Times

"A concise but assured history of the evangelical movement . . . The question of who is and who is not an evangelical should matter to everyone concerned with American politics and the American social order."—Alan Jacobs, Atlantic 

"Mr. Kidd's brief history is invaluable as a primer, especially for political observers who find American evangelicalism mysterious and alien . . . Mr. Kidd's arguments are fair and his scholarship is superb."—Barton Swaim, Wall Street Journal 

"Thomas S. Kidd says more in 175 pages of text than most historians of this capacious topic have said in books twice that long. Though . . . written for a popular audience, specialists will immediately see that it represents the distillation of years of careful research and critical reflection."—Grant Wacker, Journal of Church and State

"This book, written by one of the most respected historians of our time, examines evangelicalism with clarity and insight, through the telling of a riveting story. Reading this book makes me remember why I loved the word 'evangelical' in the first place, and why I think our movement is worth saving."—Russell Moore, president, The Ethics & Religious Liberty Commission of the Southern Baptist Convention

"Kidd makes a persuasive case for returning the term 'evangelical' to the religious convictions that once loomed as more important for 'evangelicals' than political adherence. This book is as important as it is timely."—Mark A. Noll, co-editor of Evangelicals: Who They Have Been, Are Now, and Could Be

"Thomas Kidd, an accomplished U.S. historian and practicing evangelical Christian, reminds us that evangelicalism has always been primarily a religious and spiritual movement that, when at its best, has transcended race, class, ethnicity, and politics."—John Fea, author of Believe Me: The Evangelical Road to Donald Trump

"Part history, part lament, this book offers a bracing introduction to evangelicalism in America. Thomas Kidd tells the tumultuous story of a movement that began in the eighteenth century as a heartfelt quest for spiritual rebirth and holiness, but which is best known today for its political support of Donald Trump and the Republican Party."—Catherine A. Brekus, author of Sarah Osborn's World

"Learned but highly accessible, this is an excellent introduction to US evangelical history and politics. Sweeping across two hundred years, multiple faith commitments, and covering a broad range of racial and political identities, this is an important book."—Melani McAlister, George Washington University


Yale University Press, 9780300255331, 200pp.
Publication Date: September 8, 2020
About the Author
Thomas S. Kidd is the James Vardaman Distinguished Professor of History at Baylor University. His books include Benjamin Franklin: The Religious Life of a Founding Father and American Colonial History: Clashing Cultures and Faiths.
or
Not Currently Available for Direct Purchase