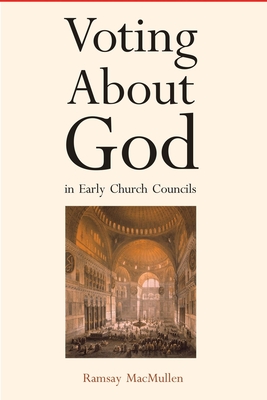 Voting About God in Early Church Councils
Paperback

* Individual store prices may vary.
Other Editions of This Title:
Hardcover (10/10/2006)
Description
In this study, Ramsay MacMullen steps aside from the well-worn path that previous scholars have trod to explore exactly how early Christian doctrines became official. Drawing on extensive verbatim stenographic records, he analyzes the ecumenical councils from A.D. 325 to 553, in which participants gave authority to doctrinal choices by majority vote.

The author investigates the sometimes astonishing bloodshed and violence that marked the background to church council proceedings, and from there goes on to describe the planning and staging of councils, the emperors' role, the routines of debate, the participants' understanding of the issues, and their views on God's intervention in their activities. He concludes with a look at the significance of the councils and their doctrinal decisions within the history of Christendom.
Praise For Voting About God in Early Church Councils…
"Ramsay MacMullen has written another provocative and highly original book. He shows how Christian doctrine came to be decided by the democratic votes of bishops, and how the passions that this aroused all too often led to actual violence."—Averil Cameron, Keble College, Oxford University
"In MacMullen's highly original book we get a sense of what it was like to be at an early church council, how arguments ebbed and flowed, how power was wielded, how participants were intimidated and inspired."—David Brakke, Indiana University




"By fine literary detective work, MacMullen reassembles the mobs of bishops who debated, voted, and rioted in the fifteen thousand or so early church councils, tracing the progress of Christianity from a raucous democracy to a harnessed hierarchy."—Garry Wills, Northwestern University

"Bloodthirsty bishops raining curses on their enemies storm through these pages, then step aside, humbled, allowing MacMullen's cool, sane, and immensely learned analysis to enrich our understanding of the making and fragmenting of Roman imperial Christianity."—James J. O'Donnell, author of Augustine: A New Biography

Yale University Press, 9780300255416, 182pp.
Publication Date: August 11, 2020
About the Author
Ramsay MacMullen is emeritus professor in the Department of History at Yale University. Among his many previous books are Christianizing the Roman Empire, Corruption and the Decline of Rome, and Christianity and Paganism in the Fourth to Eighth Centuries.