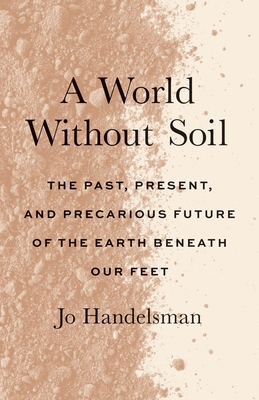 A World Without Soil
The Past, Present, and Precarious Future of the Earth Beneath Our Feet
Hardcover

* Individual store prices may vary.
Description
A scientist's manifesto addressing a soil loss crisis accelerated by poor conservation practices and climate change

This book by celebrated biologist Jo Handelsman lays bare the complex connections among climate change, soil erosion, food and water security, and drug discovery.
 
Humans depend on soil for 95 percent of global food production, yet let it erode at unsustainable rates. In the United States, China, and India, vast tracts of farmland will be barren of topsoil within this century. The combination of intensifying erosion caused by climate change and the increasing food needs of a growing world population is creating a desperate need for solutions to this crisis.  
          
Writing for a nonspecialist audience, Jo Handelsman celebrates the capacities of soil and explores the soil-related challenges of the near future. She begins by telling soil's origin story, explains how it erodes and the subsequent repercussions worldwide, and offers solutions. She considers lessons learned from indigenous people who have sustainably farmed the same land for thousands of years, practices developed for large-scale agriculture, and proposals using technology and policy initiatives.
Praise For A World Without Soil: The Past, Present, and Precarious Future of the Earth Beneath Our Feet…
"Jo Handelsman is a national treasure, and her clarion call warning of a looming soil-loss catastrophe must be heard. Add her clearly written alarm to other future-shocks: climate change, pandemics, and mass extinctions."—Laurie Garrett, Pulitzer Prize winner and author of The Coming Plague: Newly Emerging Diseases in a World out of Balance
"The ground beneath our feet is slipping away as we lose the precious soil that sustains us. Jo Handelsman's writing—as rich and life supporting as the soil itself—is a riveting warning. She tells us eloquently about the danger we're in, but also what we can do about it."—Alan Alda, actor, writer, and host of the podcast "Clear+Vivid with Alan Alda" 
"A truly delightful book about soil! Jo Handelsman brilliantly describes in fascinating detail the origin, structure, and contributions to human health by the very ground of Planet Earth."—Rita Colwell, Distinguished University Professor, University of Maryland and former Director, National Science Foundation
"
A World Without Soil
is an optimistic and compelling look at the challenges surrounding one of earth's most vital natural resources. Jo Handelsman presents rigorously researched and compelling solutions to advance policy changes we need today – in order to ensure our future."—Howard W. Buffett, co-author of
40 Chances
and
Social Value Investing
, and 2001 FFA State Soil Judging Champion   
"A significant and inspirational book. Jo Handelsman richly narrates the integral connections and interdependencies of soil, a living entity which lies at the heart of our sustenance, survival and wellbeing."—Garth Harmsworth, senior indigenous Maori scientist (Toi Rangahau), Manaaki Whenua-Landcare Research, New Zealand
Yale University Press, 9780300256406, 272pp.
Publication Date: November 23, 2021
About the Author
Jo Handelsman is the director of the Wisconsin Institute for Discovery and a Vilas Research Professor and Howard Hughes Medical Institute Professor in the Department of Plant Pathology at the University of Wisconsin–Madison. Handelsman previously served as a science advisor to President Barack Obama.
 
Kayla Cohen has provided research and creative contributions to A World Without Soil. She is completing a master's degree in Environment and Development at the London School of Economics.