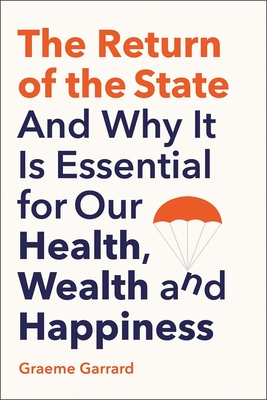 The Return of the State
And Why it is Essential for our Health, Wealth and Happiness
Hardcover

* Individual store prices may vary.
Other Editions of This Title:
Digital Audiobook (9/12/2022)
Description
A vigorous and timely defense of the state as a force for good

For decades now wealth and power have been shifting from states to markets. This experiment has been a failure for all but a privileged few. But this trend is beginning to reverse, accelerated by the COVID-19 pandemic, which has seen the state play the most direct and positive role in citizens' everyday lives in living memory.

Graeme Garrard makes a powerful case for the state as our only realistic hope of countering the rising power of multinational corporations, organized crime, and international organizations that will always put their own interests first. Today the state is essential to the health and welfare of everyone except the rich and powerful. Yet it is being rolled back and whittled away, leaving the well-being of most of us at the mercy of unaccountable private powers that are increasingly free from external control. As Garrard shows, the state is the only realistic way of promoting the public good in our time.
Praise For The Return of the State: And Why it is Essential for our Health, Wealth and Happiness…
"Graeme Garrard…assembles the moral, economic and political reasons why the world of the privatised and outsourced state is over…The title of this book comes as a timely reminder that The Return of the State is here already."—Polly Toynbee, The Guardian
"A masterpiece of analysis—systematically dismantling our current meaningless antiquated political vocabulary, and the fantasy that charities and civil society will bring us salvation. Garrard's advocacy for the public interest state is convincing and compelling. What else might work for (or appeal to) the next generation?"—Danny Dorling, author of
Slowdown
"As a global pandemic continues to expose the deep problems with the modern state's subordination to market forces, Graeme Garrard's book offers us both an engaging history of how the social democratic welfare state came about and a timely case for the necessity of restraining private power."—Luke Savage,
Jacobin
magazine  
Yale University Press, 9780300256758, 240pp.
Publication Date: June 14, 2022
About the Author
Graeme Garrard is a reader in politics at Cardiff University. He is the author of Rousseau's Counter-Enlightenment and Counter-Enlightenments, and coauthor of How to Think Politically.