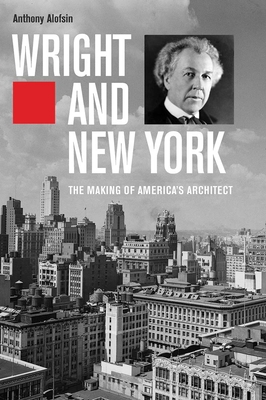 Wright and New York
The Making of America's Architect
Paperback

* Individual store prices may vary.
Other Editions of This Title:
Hardcover (5/21/2019)
Description
A dazzling dual portrait of Frank Lloyd Wright and early twentieth-century New York, revealing the city's role in establishing the career of America's most famous architect

Frank Lloyd Wright (1867–1959) took his first major trip to New York in 1909, fleeing a failed marriage and artistic stagnation. He returned a decade later, his personal life and architectural career again in crisis. Booming 1920s New York served as a refuge, but it also challenged him and resurrected his career. The city connected Wright with important clients and commissions that would harness his creative energy and define his role in modern architecture, even as the stock market crash took its toll on his benefactors.
 
Wright denounced New York as an "unlivable prison" even as he reveled in its culture. The city became an urban foil for Wright's work in the desert and in the "organic architecture" he promoted as an alternative to American Art Deco and the International Style. New York became a major protagonist at the end of Wright's life, as he spent his final years at the Plaza Hotel working on the Guggenheim Museum, the building that would cement his legacy.
 
Anthony Alofsin has broken new ground by mining the recently opened Wright archives held by Columbia University and the Museum of Modern Art. His foundational research provides a crucial and innovative understanding of Wright's life, his career, and the conditions that enabled his success. The result is at once a stunning biography and a glittering portrait of early twentieth-century Manhattan.
 
Praise For Wright and New York: The Making of America's Architect…
"Anthony Alofsin's Wright and New York traces the transitive relationship of the architect and the city, as well as the genesis of the bohemian culture of the East Village."—Patti Smith, New York Times

"meticulously researched, highly readable . . . Alofsin recounts this disastrous series of events in great detail before chronicling Wright's gradual rebranding from pariah to hero, a long process that culminated in 1940 with a sweeping retrospective at MoMA."—Fran Leadon, Gotham 

"What makes Alofsin's book so immensely valuable is its deep dive into the Wright archives held by Columbia University and the Museum of Modern Art. There is much in his book that was new to me. Best of all, Alofsin manages to present as fine-grained a picture of Wright's times in New York (and in many other places) as we have ever had while never falling into the archive-diving biographer's vice of long-windedness and needless discursiveness."—Francis Morrone, New Criterion

Of the many Wright biographies, Anthony Alofsin's Wright and New York: The Making of America's Architect is unusual in focusing on the period in which the well-known, though not yet famous Midwesterner—broke, nearly broken, and vulnerable—started again from scratch[ . . . ] New York gave the architect opportunities that transformed a vulnerable, humbled figure into a Mount Rushmore-scale icon, an enduring American monument that Wright himself chiseled and shaped through his own prose."—Joseph Giovannini, Interior Design Magazine

"Illuminating."—Anthony Paletta, The American Conservative

"The remarkable story about an extraordinary architect whose other greatest achievement may be how he sustained and elevated such a long and meaningful career."—Stanley Stark, Oculus

"In his meticulously researched, highly readable Wright and New York, Anthony Alofsin outlines Gotham's influence on America's foremost twentieth-century architect."—Fran Leadon, Gotham Center for New York City History (blog)

Finalist in the PROSE Awards Architecture and Urban Planning category, sponsored by the Association of American Publishers

"Anthony Alofsin engagingly examines Frank Lloyd Wright's previously unexplored relationship with New York City and the influence one had over the other. Illuminating an atmosphere of turbulent change and a burgeoning bohemian culture, this is the perfect book to read when navigating a city that seems, more than ever, a victim of heartless reconstruction."—Patti Smith

"A watershed investigation of Wright's life in the 1920s, when he landed, adrift, in New York. The city proved antagonistic, irresistibly so, and transformed him. Alofsin's erudition, compelling prose, and first-rate detective work will alter how you perceive both Wright and Manhattan."—Judith Dupré, New York Times bestselling author of Skyscrapers

"Alofsin chronicles the relationship between America's greatest architect and its greatest city with the precision of a detective, the perspective of a historian, and the flair of a novelist."—Thomas Mellins, author of New York 1930: Architecture and Urbanism Between the Two World Wars


Yale University Press, 9780300256949, 352pp.
Publication Date: November 17, 2020
About the Author
Anthony Alofsin is Roland Roessner Centennial Professor of Architecture at the University of Texas at Austin.