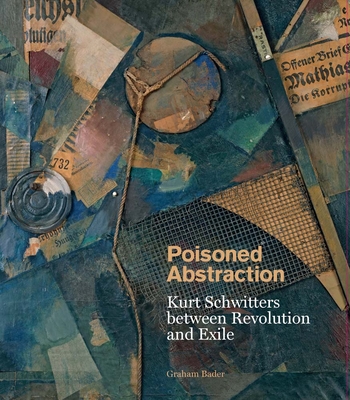 Poisoned Abstraction
Kurt Schwitters between Revolution and Exile
Hardcover

* Individual store prices may vary.
Description
A definitive resource, full of fresh insights and new revelations, on one of the most influential interwar artists 

This richly illustrated book offers a definitive new assessment of the oeuvre of Kurt Schwitters (1887–1948), a central figure of the interwar European avant-garde. Active as an artist, designer, publisher, performer, critic, poet, and playwright, Schwitters is best known for intimately scaled, materially rich collages and assemblages made from found objects—often refuse—that the artist described as having lost all contact with their role and history in the world at large. But as Graham Bader explores, such simple separation of art from life is precisely what Schwitters's "poisoned abstraction" calls into question. 

Considering works reaching from Schwitters's earliest collage-based pieces of 1918–19, through his 1920s advertising designs, to his seminal environmental installation the Merzbau, Bader carefully unpacks the meaning behind such projects and sheds new light on the tumultuous historical conditions in which they were made. In the process, he reveals a new Schwitters—aesthetically committed and politically astute—for our time. This authoritative account reframes our understanding of Schwitters's multifaceted artistic practice and explores the complex entwinement of art, politics, and history in the modern period.  
Praise For Poisoned Abstraction: Kurt Schwitters between Revolution and Exile…
"Poisoned Abstraction is the account of Schwitters for our moment. Its comprehensiveness does justice to the complexity of his art and critically expands our understanding of Schwitters himself."—Bibiana Obler, George Washington University

"A fascinating analysis of Kurt Schwitters's body of work. Graham Bader successfully makes sense of Schwitters's often puzzling art, its evolution, and its meaning in a context that shifted dramatically between the two world wars."—Andrés Mario Zervigón, author of John Heartfield and the Agitated Image: Photography, Persuasion, and the Rise of Avant-Garde Photomontage

"Graham Bader's elegant study explores key aspects of Kurt Schwitters's practice, testing the artist's relay between art and life. In exploring how Schwitters's works, made from the shards of a devastated modern landscape, create meaning and value, Bader is a thoughtful and probing guide."—Leah Dickerman, Museum of Modern Art


Yale University Press, 9780300257083, 240pp.
Publication Date: November 23, 2021
About the Author
Graham Bader is associate professor and chair of art history at Rice University.