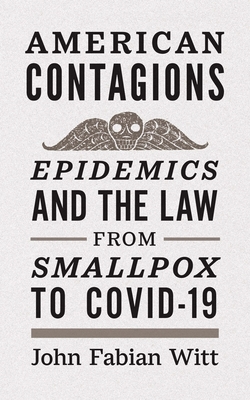 American Contagions
Epidemics and the Law from Smallpox to COVID-19
Hardcover

* Individual store prices may vary.
Other Editions of This Title:
Digital Audiobook (2/15/2021)
Paperback (11/23/2021)
Description
A concise history of how American law has shaped—and been shaped by—the experience of contagion, "taking us from the smallpox outbreaks of the colonies to COVID-19. . . . The conclusion [Witt] arrives at is devastating." (Jennifer Szalai, New York Times)
"One wishes that, six months ago, every member of Congress and the Trump administration had been forced to read and reckon with the history Witt neatly summarizes. But now in the aftermath of a close, bitterly fought election, let's hope that this book will help America chart its way forward."—Jill Filipovic, Washington Post
From yellow fever to smallpox to polio to AIDS to COVID-19, epidemics have prompted Americans to make choices and answer questions about their basic values and their laws. In five concise chapters, historian John Fabian Witt traces the legal history of epidemics, showing how infectious disease has both shaped, and been shaped by, the law. Arguing that throughout American history legal approaches to public health have been liberal for some communities and authoritarian for others, Witt shows us how history's answers to the major questions brought up by previous epidemics help shape our answers today: What is the relationship between individual liberty and the common good? What is the role of the federal government, and what is the role of the states? Will long-standing traditions of government and law give way to the social imperatives of an epidemic? Will we let the inequities of our mixed tradition continue?
Praise For American Contagions: Epidemics and the Law from Smallpox to COVID-19…
"In this brief and readable account, Mr. Witt describes the history of American efforts to prevent pandemics from breaking out and to grapple with them once they do."—Adam J. White, Wall Street Journal

"Timely. . . . Contrarians and the civic-minded alike will find Witt's legal survey a fascinating resource."—Kirkus Reviews, Starred Review

"[D]raws on a wealth of historical literature and precedent to craft an original and compelling theoretical framework and prism through which to understand the American reaction to the current pandemic."—Binyamin Blum, Law & Society Review

"[A} startling feat of synthesis in five short chapters"—Sarah B. Dine, Health Affairs

"Witt's book shows that the public health response to any disease cannot be separated from long-standing and powerful ideas about cleanliness, disease control, and who deserves help when ill."—Theresa Brown, American Journal of Nurses

"With a good mix of solid research . . . and understandable, well-articulated connections between history, law, science, and social science, American Contagions gives much-needed context to COVID-19."— Courtney Segota, Law Library Journal
 

"This thoughtful text asks readers to reflect upon the ways that epidemics reveal the nation's weaknesses and its inequities, and to learn from a troublesome past so that we might walk toward a progressive future. A timely and accessible history of public health law."—Erica Dunbar, Rutgers University

"Professor Witt's book is an original and thoughtful contribution to the interdisciplinary study of disease and American law. Although he covers the broad sweep of the American experience of epidemics from Yellow Fever to Covid-19, he is especially timely in his exploration of the legal background to the current disaster of the American response to the coronavirus. A thought-provoking, readable, and important work."—Frank Snowden, author of Epidemics and Society

"With this urgently needed book, John Witt has accomplished the seemingly impossible.  In short order, he has produced a complex, authoritative, and accessible synthetic history of the interrelationship of law, epidemic, and public health regulation in America.  As we again navigate the tortuous crises of pandemic, Witt's long history of the interplay of public safety, state power, legal right, and social exclusion brings a most welcome and necessary perspective and context."—William Novak, author of The People's Welfare: Law and Regulation in Nineteenth-Century America

"In this masterful book, John Fabian Witt knits together history and law to illuminate how deeply the COVID-19 pandemic has divided America, and how public health crises shape law and democracy itself. He guides us through the most consequential choices of our lifetimes, showing us that America can choose equity, compassion, science, and the rule of law."—Lawrence O. Gostin, Georgetown University

"Though caused by mysterious agents invisible to the naked eye, epidemics powerfully reveal the deep structures of power, authority, and inequality in human societies. In this timely, engagingly written, and admirably judicious account, John Fabian Witt vividly narrates the long history of American law's entanglements with deadly diseases, from colonial times to our own, and offers valuable lessons for the American people in the age of COVID-19."—Michael Willrich, author of Pox: An American History


Yale University Press, 9780300257274, 184pp.
Publication Date: October 27, 2020
About the Author
John Fabian Witt is the Duffy Class of 1960 Professor of Law and History at Yale, where he serves as Head of Davenport College. He is author of the Bancroft Prize–winning Lincoln's Code: The Laws of War in American History.