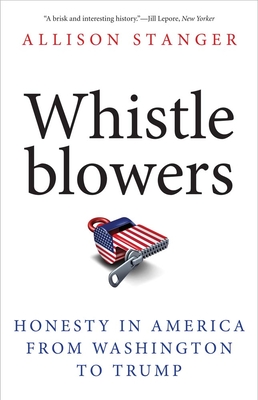 Whistleblowers
Honesty in America from Washington to Trump
Paperback

* Individual store prices may vary.
Other Editions of This Title:
Digital Audiobook (12/23/2019)
Hardcover (9/24/2019)
Description
A magisterial exploration of whistleblowing in America, from the Revolutionary War to the Trump era

A "brisk and interesting" (Jill Lepore, New Yorker) exploration of whistleblowing in America, from the Revolutionary War to the Trump era
PROSE Award winner in the Government, Policy and Politics category
  Misconduct by those in high places is always dangerous to reveal. Whistleblowers thus face conflicting impulses: by challenging and exposing transgressions by the powerful, they perform a vital public service—yet they always suffer for it. This episodic history brings to light how whistleblowing, an important but unrecognized cousin of civil disobedience, has held powerful elites accountable in America.
 
Analyzing a range of whistleblowing episodes, from the corrupt Revolutionary War commodore Esek Hopkins (whose dismissal led in 1778 to the first whistleblower protection law) to Edward Snowden, to the dishonesty of Donald Trump, Allison Stanger reveals the centrality of whistleblowing to the health of American democracy. She also shows that with changing technology and increasing militarization, the exposure of misconduct has grown more difficult to do and more personally costly for those who do it—yet American freedom, especially today, depends on it.
Praise For Whistleblowers: Honesty in America from Washington to Trump…
"[An] exceptionally sharp forthcoming book."—Bret Stephens, New York Times 

"A brisk and interesting history."—Jill Lepore, New Yorker 

Winner in the PROSE Awards Government, Policy and Politics category, sponsored by the Association of American Publishers

"A stunningly original, deeply insightful, and compelling analysis of the profound conflicts we have faced over whistleblowing, national security, and democracy from our nation's founding to the Age of Trump."—Geoffrey R. Stone, author of Perilous Times: Free Speech in Wartime

"The depth, breadth and power of the national security state should concern every American who cares about our democracy. Allison Stanger has woven interviews, insights, and great stories into a compelling argument for why we must celebrate and protect whistleblowers as the indispensable guardians of our national ideals."—Anne-Marie Slaughter, author of The Chessboard and the Web

"This clear-eyed, sobering book narrates a history of whistle-blowing, from the American Revolution to Snowden to Comey, and delivers the verdict that the republic is at risk—a must read."—Danielle Allen, author of Our Declaration


Yale University Press, 9780300258547, 304pp.
Publication Date: February 9, 2021
About the Author
Allison Stanger is Russell Leng '60 Professor of International Politics and Economics at Middlebury College, Cary and Ann Maguire Chair in Ethics and American History at the Library of Congress, a Center for Advanced Study in the Behavioral Sciences Fellow at Stanford University, and an External Professor at the Santa Fe Institute. She is the author of One Nation Under Contract.
or
Not Currently Available for Direct Purchase