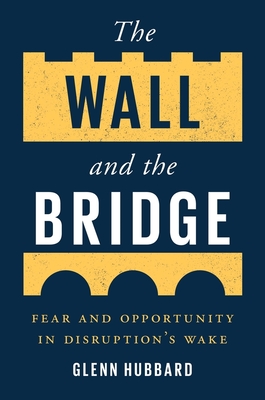 The Wall and the Bridge
Fear and Opportunity in Disruption's Wake
Hardcover

* Individual store prices may vary.
Description
An informed argument for an economic policy based on bridges of preparation and adaptation rather than protective walls of protection and exclusion

Free‑market economists often have noted that there are winners and losers in a competitive capitalist world. The question of how to deal with the difficult real‑life consequences faced by the losers, however, has largely been ignored. Populist politicians have tried repeatedly to address the issue by creating walls—of both the physical and economic kinds—in order to insulate communities and keep competition at bay.
 
While recognizing the broad emotional appeal of walls, economist Glenn Hubbard argues that because they delay needed adaptations to the ever‑changing world, walls are essentially backward‑looking and ultimately destined to fail. Taking Adam Smith's logic to Youngstown, Ohio, as a case study in economic disruption, Hubbard promotes the benefits of an open economy and creating bridges to support people in turbulent times so that they remain engaged and prepared to participate in, and reap the rewards of, a new economic landscape.
Praise For The Wall and the Bridge: Fear and Opportunity in Disruption's Wake…
"In the tortured partisan debate on economic policy, it is a rare pleasure to find a superb scholar such as Glenn Hubbard framing issues from the center."—Kenneth Rogoff, Harvard University

"Glenn Hubbard's rare blend of a keen mind, a facile pen, and copious government experience makes him a voice worth listening to. I always do, even when we disagree. The Wall and the Bridge is a great read—packed with good ideas and sprightly writing".—Alan S. Blinder, Princeton University
 


Yale University Press, 9780300259087, 248pp.
Publication Date: January 4, 2022
About the Author
Glenn Hubbard, Russell L. Carson Professor of Finance and Economics and dean emeritus at Columbia Business School, was chairman of the U.S. Council of Economic Advisers from 2001 through 2003. He lives in New York, NY.